Kropp Farm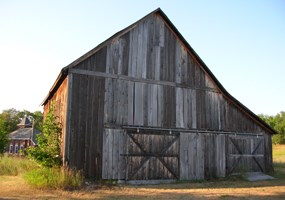 The Kropp farm is located at the northern boundary of the Park just behind the St. Paul's Luthern Church on M-22 and Townline Road. The farm buildings are separated by St. Paul's Lutheran Church. The granary and smoke house can be accessed from Townline Rd. and the house is on M-22. This photo shows the granary in the foreground and the church in the left background. The land where the church building and cemetery are located were donated by the Kropp family, and several of the family members are buried in the cmetery. The farm is missing a large barn and possibly some other buildings from the original farm.
The Kropp family was in the lumber business. They had several teams of horses and hired workers who would drive their teams to the south as far as Cedar and MapleCity to get logs from the forest and haul them to the dock at GoodHarbor. They needed a large granary to store the feed for the horses. They also had a large barn for hay and to house the horses and to store the harnesses and other equipment. The barn no longer remains. It would take a day for the teamsters to take a team of horses to the forest to pick up a load of logs. They would stay at the lumber camp and then it would take a day to drive the load to the dock. Then they would stay at the Kropp house overnight before heading back for another load.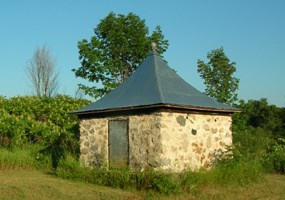 The stone smoke house, built about the same time as the large granary (ca. 1890) was used to smoke fish and meat to preserve it. It has vents in the top of the walls to allow the smoke out, and there is evidence that it was used quite a lot. Behind the smoke house are grape vines and a grove of sumac.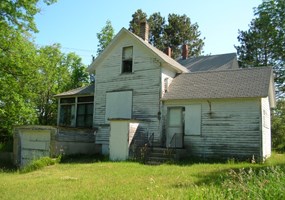 The house was built around 1890. Its construction is similar to other farmhouses in the area – stone foundation, clapboard walls, and asphalt roof. It has two gabled wall dormers on the north side and three chimneys. Behind the house is a homemade circular clothes-drying rack made of metal and wood. There is also a shed and a privy near the house. If you walk along by the edge of the cemetery, you will also notice a couple of little shacks, which were probably used as workshops or to house small animals.
Last updated: April 10, 2015