Ken-Tuck-U-Inn
The Ken-Tuck-U-Inn is located on the east side of M-22 at Long Lake Rd. From the southern border of the Lakeshore (identified by the Welcome to Sleeping Bear Dunes sign) on M-22 near Crystal Lake, drive north along M-22 about 0.3 miles to Long Lake Road, which intersects M-22 from the east. Coming from the north, the Ken-Tuck-U-Inn is about 10.6 miles south of Esch Road on M-22.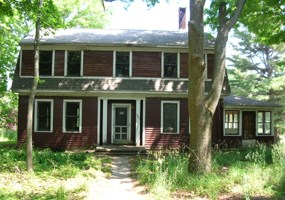 This little inn represents the final chapter in the story of the logging village of Aral, which was located a few miles north of here at the end of Esch Road where Otter Creek drains into Lake Michigan. Robert Bancroft, a printer and photographer was the first white settler in this area. By 1882, Dr. Aurthur O'Leary, who owned most of the land in the area, built a sawmill on Otter Creek. By the mid-1880s, Aral had a population of about 200 – mostly mill hands and lumbermen. As the mill town began to grow, Robert Bancroft opened a general store to supply the growing town. His son, Bertie, was born in Aral. Eventually the trees were all harvested and the mill closed down in 1911.
Bertie Bancroft was the last one to leave Aral in the early 1920s, and in 1925 he sold his land in Aral and built the Ken-Tuck-U-Inn to serve the growing tourist trade. Bertie and his wife Donna operated the inn. About this time, several other farm inns developed in the area to serve the growing tourist industry. The late 1920s saw the beginning of the transition from a logging and subsistence farming economy to a tourism economy. Produce grown on the farm was used to make meals for the guests, which was more valuable than selling it wholesale to local markets.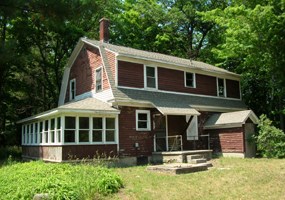 The house was built larger than a typical family farmhouse to accommodate the boarders and diners. Chicken dinners using their own farm-raised chickens were a Sunday specialty at the inn. During the peak tourist season, Donna and her staff prepared Sunday dinners for over 100 guests on her wood stove. Dairy products like milk, whipped cream, and ice cream came from the family cows.
Boarders often returned year after year until they purchased their own summer cottages, and many became good friends. The house, which was painted pale yellow, was surrounded by gardens, flower beds, and trees. A sunroom was filled with books and seashells. Bertie lived in this house until his death in 1963. Donna died the following year.
As you peek in the windows or sit on the steps to the back porch, you can almost hear the chatter and laughter of the guests as they enjoy a good chicken dinner in this serene country setting.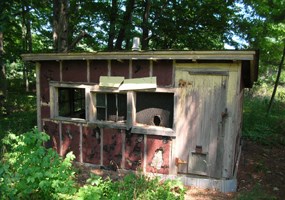 Last updated: April 10, 2015