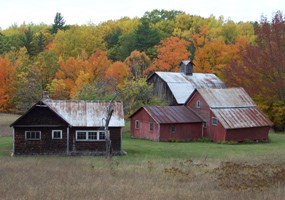 Text from Growing up in Leelanau by Norbert Bufka, © 2003.
---
The Bufka farm is located in the northern part of the Park on the west side of M-22 near Townline Road about 3.8 miles past CR-669. There are several picturesque buildings besides the house and barn.
This land was originally homesteaded by Joseph Bergman, born in Baden, Germany in 1794. He and his family immigrated to this area in the 1850s and built a cabin on this site. The cabin still exists, but has been incorporated into the chicken coop. It is typical for a homestead to be established and cabin to be built for the family to live in for a few years while the land is being cleared and barns and other out-buildings are built. Then a larger house is built for the family, and the original log cabin is used for other purposes.
The Bergman family moved to Chicago and the land was deeded to their daughter, Mary and her husband Nikodem Tabor. It is unclear how long the Tabors lived on the farm, but on September 20, 1880, Charles Faustin Bufka purchased the entire 200 acres and built the farm house that you see today. In fact, most of the buildings were built around 1880. As death approached, Charles Bufka deeded 120 acres to his son Joseph, 40 acres to his son Edward, and 40 acres to his wife, Mary. The land was further subdivided by family members until it was finally purchased by the National Park Service.
Most of the farm's land was on the other side of M-22 from the buildings. The fields were rolling hills, and the Bufka's grew a variety of grains, hay, and corn for the animals, and potatoes for their own consumption. They raised chickens for eggs and meat and raised pigs for meat. They also had a few dairy cows to provide milk and cream, which they used and sold the excess for cash. There are a variety of fruit trees scattered over the yard including apple, apricot, pear, and plum. They also raised strawberries and had a large vegetable garden. Most of the food was used for the family's own consumption.