Bicycling in the Lakeshore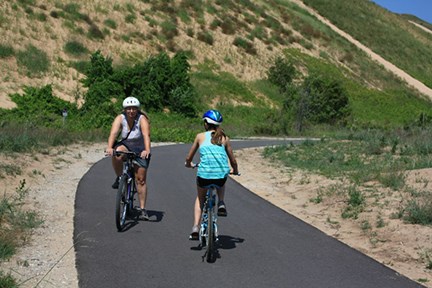 The Sleeping Bear Dunes National Lakeshore offers some wonderful bicycle riding opportunities. Traveling by bike is a great way to experience the beauty of the park while providing fresh air and exercise.
A great family-friendly riding opportunity is the new
Sleeping Bear Heritage Trail
. This trail is a s 22-mile paved multi-use trail that passes through the National Lakeshore and connects Empire to Bohemian Road. Most of the trail is asphalt, but a 3-mile section which goes through the Port Oneida Rural Historic District north of Glen Arbor is crushed. To learn more about the trail visit the
Friends of Sleeping Bear Dunes
.
Visitors are reminded that other than the Sleeping Bear Heritage Trail biking is only permitted on maintained roads within the park. Bikes are not permitted on hiking trails or on the beaches. There are many secondary, non-paved roads within the Sleeping Bear Dunes National Lakeshore that offer exceptional riding and views. Here are a few possibilities:
Just north of the Platte River Campground, in the southern end of the park, is Peterson Road. This road can be accessed from M-22, or from Loop 4 in the Platte River Campground, next to site 419. This 3-mile secondary gravel road will take riders to a beautiful Lake Michigan beach. Along the way you will pass another excellent mountain biking opportunity by way of Lasso Road. This road winds through scenic woods and wetlands and eventually makes its way back to M-22.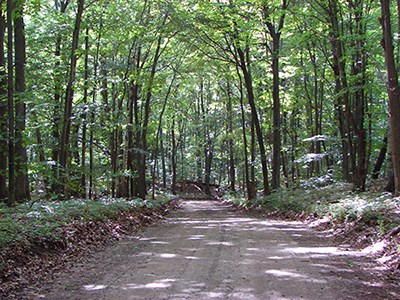 Another challenging and rewarding mountain bike ride can be found along the Sleeping Bear Heritage Trail. The steep and wooded Shauger Hill Road can be accessed from the parking lot at North Bar Lake, just north of Empire. Once bikers traverse the climb to the top of this gravel road, they are rewarded with a descent back down to the Heritage Trail. This paved trail can then be taken back toward Empire, where Bar Lake Road will lead back to North Bar Lake. This scenic loop is a total of 6 miles.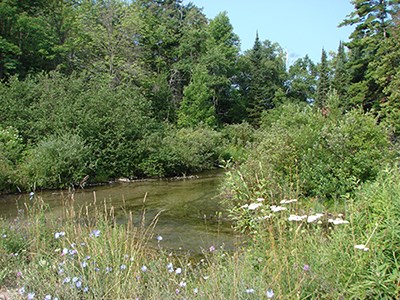 Five miles south of Empire along M-22 you will find Esch Road. Take this road west, toward Lake Michigan and you will find a scenic beach with plenty of parking. From this parking lot you can access another great mountain biking opportunity by way of Aral Road. This small gravel drive will take you south through woods and past wetlands and offer some excellent wildlife viewing. About a mile back to the east of the beach along Esch Road, Aral Road will also go north through forested hills, and meets up with Hillis Road. Hillis Road travels past hardwood forests, open meadows, and historic farms.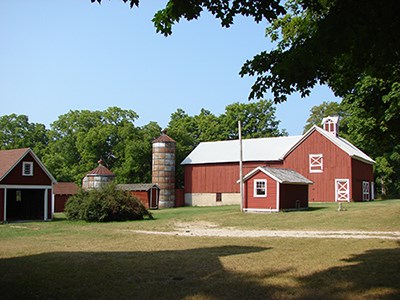 ---
Road Bike Touring
Bike clubs frequently schedule trips to the Sleeping Bear Dunes area because the terrain in the area provides a variety of levels of challenge. M-22, M-109, and M-209 are all generally flat to moderately rolling. The Pierce Stocking Scenic Drive is quite challenging with steep hills and curves. Some of the county roads in the area have relatively steep hills, so it is wise to take a tour of your proposed bike trip by car before starting out.
Nearby Biking Areas
For those who enjoy mountain biking on single track trails, there are two Michigan State Forest trails just east of the National Lakeshore that allow mountain bikes. Lake Ann Pathway is located just west of Lake Ann on Reynolds Road. Lost Lake Pathway is located 1.5 miles west of Interlochen on US 31 then 1 mile north on Wildwood Rd.
The Betsie Valley Trail is a paved rail-trail south of the Lakeshore that goes from Frankfort and Elberta to Crystal Lake. The trail is gravel from Crystal Lake to Thompsonville.


Last updated: October 20, 2016