50th Mission and Goals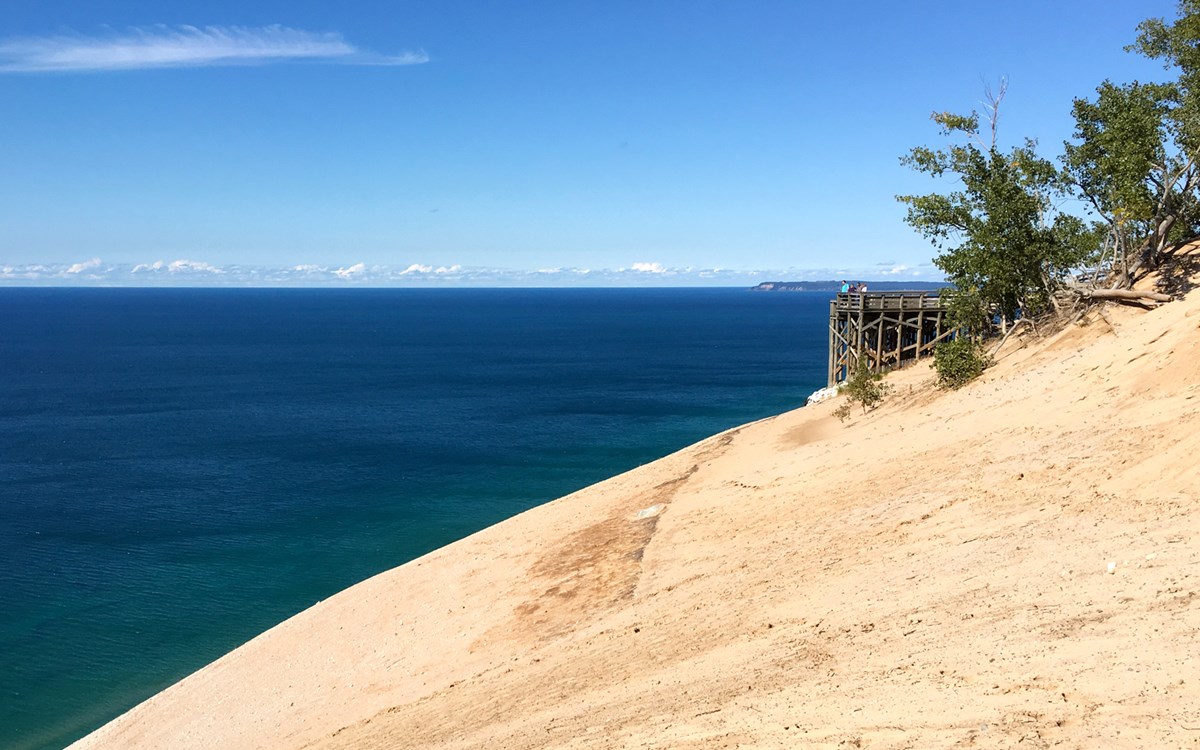 Background
Sleeping Bear Dunes National Lakeshore is a celebration of the towering dunes and dense forests, vast waterways and small streams, the Anishinaabek and early settlers, maritime villages and rustic lodges, remote wilderness and busy beaches all held within its boundaries and the many stories they tell: that Sleeping Bear Dunes is a National Lakeshore is a salute to the hard work and commitment of many. To commemorate 50 years as a National Lakeshore, we had big plans to host a year-long celebration full of events and in-person activities. Obviously, the COVID-19 pandemic changed the nature of this celebration somewhat, but despite these setbacks the show must go on! We still have plenty of activities and challenges for you to undertake as well as details on how you can help us celebrate virtually. During the upcoming year, we will work to acknowledge the contributions and stories of how Sleeping Bear Dunes came to be–interweaving their stories and histories with the park's physical grandeur and natural history, and bringing it all to life: the story of Sleeping Bear Dunes is not finished. We are excited to engage with the community as we look forward to the next 50 years. As our birthday approaches, the Lakeshore would like to thank those who have played a pivotal role in making the park what it is today, invite new connections and support to shape its future, and showcase the magnificence of what makes the park so special.

Those who have given SLBE its identity
Those who contributed to the formation of the park
Supporters/activists
Those organizations that make this all possible (partners)
Mission
Sleeping Bear Dunes National Lakeshore is honoring its first 50 years by sharing a year-long commemoration with its community, thanking those who have played a role in making the park what it has become; inviting new connections, support and goodwill to ensure its future; and showcasing the magnificence that makes the park special. Furthermore, to make up for missed opportunities in 2020, we're forging ahead in 2021 with a "51 is the new 50" mindset to keep the momentum going.
Goals
Goal 1: Events during the anniversary celebration will focus attention on the significance of the 50-year milestone.
Objective: Host events, provide interpretive programs, and create other ways for visitors and neighbors to connect to this park milestone.

Goal 2: Programs and events will cultivate stewardship to ensure the Lakeshore is taken care of and enjoyed for the next 50 years.
Objective: Establish relevancy and drive engagement through our interpretation and interactions with our audience in all we do.

Goal 3: Publicly express appreciation for all who helped make the Lakeshore what it is today.
Objective: Celebrate and thank all who are part of the Sleeping Bear Dunes story, including employees, VIPS, visitors, community, partners, supporters and activists, and landowners for their commitment and efforts big and small.

Goal 4: Share the stories of our past.
Objective: Tell our whole story: from the glaciers shaping the landscape to arrival of the Anishinaabek to now, we need to reflect on our past and honor those that lost so much. It was a process to get where we are and not all of it was great.

Goal 5: Invite park visitors and neighbors to come out, experience the Lakeshore, and make new personal connections to the park.
Objective: Suggest new activities, programs, and recreational opportunities for visitors to discover their meaning and connections to the park while uncovering the natural and cultural history of the place; exploring and being in the park's fresh water, beautiful forests, and dunes; and enjoying the awesome outdoor recreation. Thank you for being part of this special time. To be able to honor our 50th anniversary is a privilege that we do not take for granted. We look forward to the next 50 years and are excited to see what the future holds.
Last updated: October 6, 2020