Sleeping Bear Dunes Wilderness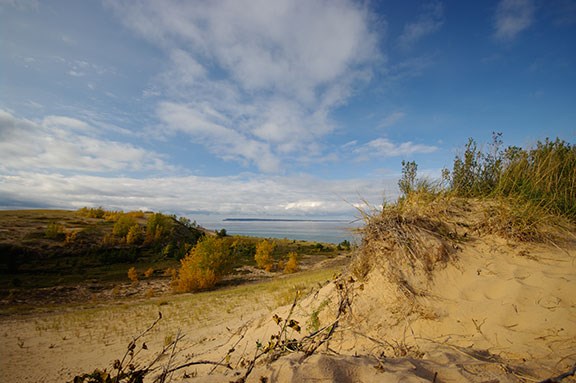 On March 13, 2014, President Obama signed a law into effect that designates 32,557 acres of Sleeping Bear Dunes National Lakeshore in Michigan as wilderness, the first congressional designation under the Wilderness Act since 2009.
"President Obama and Congress have given the American people a priceless gift by ensuring that this extraordinary landscape with its towering sand dunes and bluffs will be preserved forever as wild and primitive," said Secretary of the Interior Sally Jewell. "Hikers, anglers, paddlers and others who venture into this wilderness will find it just as the Ottawa and Chippewa tribes have for the past 3,000 years – a place of quiet solitude, spectacular views, and abundant wildlife."
"As we celebrate the 50th anniversary of the 1964 Wilderness Act this year, Sleeping Bear Dunes National Lakeshore is now our 50th national park with wilderness areas," said Director Jarvis. "Thanks to the commitment of local advocates and the Michigan congressional delegation, we can now improve our preservation efforts for this beautiful and significant national treasure."
"We are thrilled with the official designation of Sleeping Bear Dunes Wilderness, which resolves a long-standing 44-year issue stemming from the park's 1970 enabling legislation," said Dusty Shultz, the park's superintendent. "Thorough civic engagement and the 2005-2009 GMP/WS/EIS process produced a wilderness proposal that turned local opposition into broad support. The overwhelming majority of local officials, members of the conservation community, and the Michigan Congressional delegation were united in their support for this bill as a winning resolution to an issue that has been debated for years. The designation strikes an appropriate balance between preserving access and guaranteeing outstanding opportunities for naturalness, solitude and primitive recreational experiences."
"The designation also comes at a time when Sleeping Bear Dunes National Lakeshore is being discovered by national media, with record visitation of 1.5 million people in 2012," she added. "It is a great sense of accomplishment for those who care so deeply for this very special place in Michigan and for those who fought long and hard to finally create designated wilderness at Sleeping Bear Dunes National Lakeshore for this and future generations to enjoy and cherish."
The Wilderness Act, signed into law in 1964, established the highest level of conservation protection for federal lands. It prohibits permanent roads and commercial enterprises, except commercial services that may provide for recreational or other purposes of the Wilderness Act. Wilderness areas generally do not allow motorized equipment, motor vehicles, mechanical transport, temporary roads, permanent structures or installation. Visitors can engage in non-motorized recreation in wilderness areas, including hiking, fishing, camping, and hunting.
S. 23 was introduced by Senator Carl Levin (D-MI) and co-sponsored by Senator Debbie Stabenow (D-MI). A similar bill was introduced in the House (H.R. 163) by Rep. Dan Benishek, which had 11 co-sponsors.
Last updated: April 10, 2015