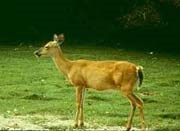 The artificial introduction of white-tailed deer to North Manitou Island in 1926 has left disastrous and lasting affects on the island's vegetation. None of the eastern Lake Michigan islands had white-tailed deer until they were artificially introduced. Soon after deer were introduced to North Manitou Island, plants favored by deer for food began to disappear. As the deer population increased some species such as yew were completely eliminated. Wildflowers of the forest floor were eliminated as well. There was no reproduction of maple, cedar, white pine, elderberry, or mountain ash. There were prominent classic deer browse lines on maple and on any tree used by deer for food. Studies from other areas have shown that overbrowsing by deer depletes the habitat for ground nesting forest birds.
There was heavy deer starvation on North Manitou Island deer once population levels surpassed browse supply. An artificial feeding program was begun when the island was still privately owned but that compounded the problem by keeping the population at high levels and the natural vegetation was even more severely impacted.
When the island became part of the park in 1984, an intensive public deer-hunting program was begun in cooperation with the Michigan Department of Natural Resources. The purpose of this hunt is to enhance the return of natural vegetation through the reduction of the deer herd. Liberal bag limits were established with an early hunting season. This has been a success as some of the spring wildflowers are returning and maple, cedar, and other tree species are again reproducing and thriving.