Research on Water, Air & Soil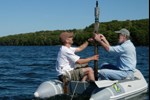 Biomonitoring Prospects for Diatoms and Paleolimnology
An environmental monitoring program is being developed that will integrate the use of paleolimnological techniques and diatom, a unicellular algae, analysis. Results will provide a management foundation by determining the natural variability or reference condition of national park lakes and by reconstructing a detailed history of lake response to ecological changes that have occurred in and around the lakes during the last 150 years.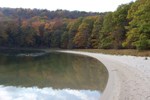 Lake Water Quality Assessment Monitoring Program for Michigan's Inland Lakes
The goals of the program are to assess the current status and condition of Michigan's inland lakes that have public access and are greater than 25 acres and to determine whether water quality standards are being met. This will help managers detect new and emerging water quality problems.
Determine invasion status and ecological effects of an exotic zooplankter in several Great Lakes area parks
The spiny water flea (Bythotrephes longimanus) is an invasive, predaceous zooplankter, which has significantly affected Great Lakes food webs and has begun to invade inland waters of the Great Lakes states and Canada. Two lakes at Pictured Rocks National Lakeshore were invaded by the early 2000s, and Bythotrephes was discovered on the large lakes of Voyageurs National Park in late 2006 and 2007. It is unclear whether or not Bythotrephes has invaded inland lakes of other Great Lakes parks, and ecological effects of the Pictured Rocks and Voyageurs invasions have not been evaluated. The proposed study aims to 1) determine which inland lakes and parks have been invaded, 2) investigate effects of the Bythotrephes invasions on native zooplankton and fish at Pictured Rocks and Voyageurs, and 3) convey the implications of these findings to the public. Results of the study will establish a baseline against which to monitor future invasions of inland waters in Great Lakes parks and will identify which aspects of aquatic resources may be most affected by such invasions.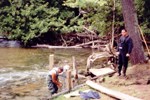 Streamflow Monitoring of the Crystal River
A streamflow monitoring station, consisting of 3 gauges, will be installed on the Crystal River. All water quality and stream flow data will be available real-time through USGS web page. The hydrologic data collected at this site will be available to the public and resource managers for many hydrologic studies, to track changes in the watershed and to determine baseline hydrologic condition.
Protocol for Monitoring and Assessing Methylmercury and Bioaccumulative Organic Contaminants in Aquatic Food Webs
This protocol outlines a framework for quantifying concentrations of methylmercury, total mercury, and bioaccumulative organic contaminants in aquatic organisms selected as biosentinels of localized contamination of aquatic food webs in six parks of the Great Lakes Network. The protocol focuses on three groups of biosentinel organisms (small prey fish and larval dragonflies for mercury, and predatory fish for organic contaminants) that are widely distributed in aquatic habitats in parks within the Great Lakes Network. The selection of these biosentinel organisms for monitoring and assessment was based on published recommendations, on inferences drawn from existing data for park units in the Great Lakes Network, and on the authors' collective experience with investigations of mercury and bioaccumulative organic contaminants in aquatic biota in Parks and other surface waters within the region.
The authors recommend that the first 3 years of this inventory and monitoring program, 2008-2010, be devoted to three tasks: (1) the collection and analysis of samples from the six park units; (2) statistical analysis, interpretation, and reporting of the data; and (3) the further evaluation of data variability, sampling design, operational costs, and logistical factors. The results from this initial 3-year effort should be used to refine this strategy, as needed.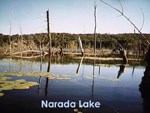 Water Quality Monitoring of Inland Lakes
We will continue to monitor water quality in 5-8 index lakes by 1) collecting profile data on dissolved oxygen, conductivity, temperature, and pH; 2) taking a Secchi depth measurement; 3) measuring relative water level; and 4) collecting water samples for laboratory analysis of major ions, DOC, silica, and nutrients. Sampling will be conducted 3 times during the open water season. We will also collect samples of zooplankton once during midsummer.
Integrated Atmospheric Deposition Network
This is a joint project between Canada and the United States to:
Monitor the toxic organic pollutants in atmospheric samples collected from the Great Lakes area.
Study the geographical and the temporal trend of concentrations of these compounds.
Calculate the atmospheric deposition and loading of these compounds to the Great Lakes.
Calculate the half lives of these compounds and the possible elimination dates of the banned compounds.
Last updated: December 21, 2017