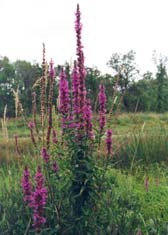 Sleeping Bear Dunes National Lakeshore appears to be a sturdy array of deep forests, immense dunes, imposing bluffs, picturesque lakes and streams, and the great length of the Lake Michigan horizon. The landscape has endured the winds and waves of eons of storms, blankets of snow and ice, and the continuous process of wind and water erosion. Although large forest fires do not appear to have been a sculpting feature historically, the impacts of logging and land clearing over the past two hundred years have shown the resiliency of the environment as new forests have sprung up and reclaimed the land.
The ecosystem also has a very fragile side to it. Many of the factors of change from recent human impacts are expanding and causing significant changes. There are acute and catastrophic impacts, as well as creeping and accumulative problems, from the introduction of exotic plants, insects, diseases, and animals that the native species cannot fight. Increases in nearby development, traffic, and human use affect air and water quality. The environment of the Lakeshore is ever-changing as forests mature, dunes move, and the seasons come and go, but it is so important that irreparable changes are not allowed to alter the landscape forever.
Download Lake Michigan Mysteries: Sleeping Bear Dunes to learn more about invasives in Lake Michigan.