Our Staff & Offices
Greetings! It is indeed an honor and privilege to serve as Superintendent of Sleeping Bear Dunes National Lakeshore! I remain in awe of the natural beauty, magnificent vistas, and valuable resources of this very special place. I believe deeply in the National Park Service mission of preserving our nation's natural and cultural treasures for future generations. It is a joy for me to work with the employees and volunteers who manage the park and provide the link to our visitors through interpretation and education of the natural and cultural resources represented in the park.
Please feel free to contact any of us with your questions, comments, or concerns. We care about this park and we know you do too.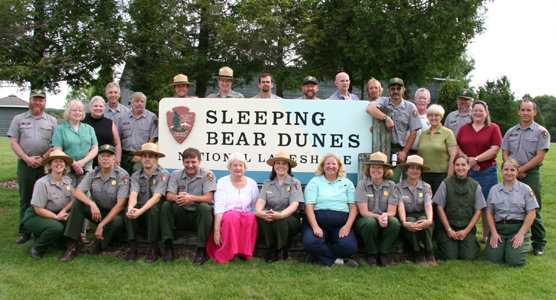 Mission Statement
The mission of the Sleeping Bear Dunes National Lakeshore is to preserve the outstanding natural features along 65 miles of Lake Michigan shoreline, in order to perpetuate the natural setting for the benefit and enjoyment of the public, and to protect the natural and historic features from developments and inappropriate uses that would destroy their scenic, scientific, historic, and recreational value.