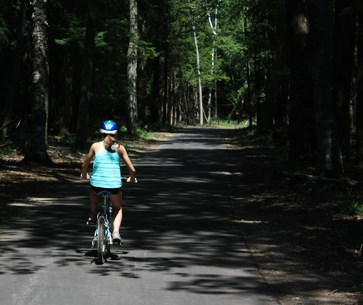 The Sleeping Bear Heritage Trail (SBHT) will be a hard-surfaced, multi-use trail paralleling M-22 and M-109 for 27 miles through the Lakeshore. Nearly ten miles have been completed already. It provides a safe, non-motorized, multi-use transportation alternative connecting the Lakeshore's main visitor destinations with Glen Arbor and Empire. The SBHT gives walkers, runners, wheelchair users, bicyclists, cross-country skiers, baby strollers, and rollerbladers a safe, enjoyable, and car-free way to access and explore the Lakeshore and neighboring communities.
The SBHT idea came from the Leelanau Scenic Heritage Route (LSHR) Committee. The State of Michigan designated the LSHR in 2002 to promote measures which preserve and enhance the scenic, historical, and recreational characteristics of Michigan Highways 22, 109, and 204 as they traverse the rural countryside and unique villages of Leelanau County, including Sleeping Bear Dunes National Lakeshore.
The LSHR Committee is made up of representatives from all 12 townships and villages along the route, Leelanau County, the Michigan Department of Transportation (MDOT), the National Park Service, the Grand Traverse Band of Ottawa and Chippewa Indians, several private organizations, and local citizens. The Northwest Michigan Council of Governments coordinates the Committee's activities. Information and materials on the LSHR can be found atwww.nwm.org/lshr.asp. The SBHT concept is supported by all members of the LSHR and is the group's top priority.