For Kids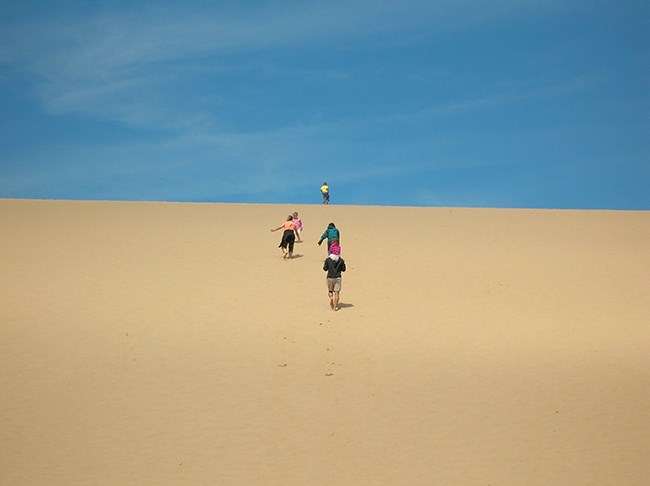 Kids love to climb the Dunes, so one of the Must-Do activities is to go to the Dune Climb and play in the biggest sand box in Michigan. The pure wind-blown sand is fun to climb and see the view of the parking lot and Glen Lake from the top. You will be more than 150 feet above the parking lot at the first plateau and about 300 feet above at the second plateau. If you have enough energy (and you can convince your parents), you can hike all the way to Lake Michigan. Once at the top of the dunes, the best is yet to come - the run back down the dunes!
Did you know how Sleeping Bear Dunes got it's name? Read about the Legend of Sleeping Bear and look for the Sleeping Bear and the two cubs when you visit.
Sleeping Bear Dunes has one of the best Junior Ranger programs. It is pretty challenging, so you'll want to spend quite a bit of time learning about the park and answering the questions. You can pick up a book at the Philip A. Hart Visitor Center, and when you are done, bring it back to show a ranger and you can get your patch.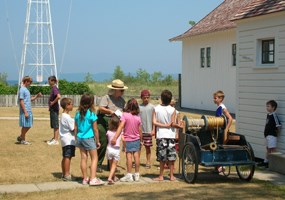 During the summer, there are programs each day especially for kids. These ranger-led programs are held at different places throughout the park. At 3:00 each day, you can be part of a turn-of-the-century shipwreck rescue. The kids get involved as part of the life-saving crew at the Sleeping Bear Point Life-Saving Station and Maritime Museum. You will want to end the day with a ranger-led evening program held in various places throughout the park. Check the Schedule of Events for details.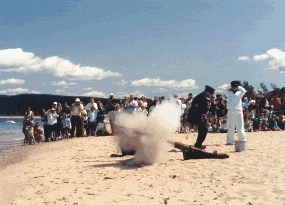 Come to the Maritime Museum to see the Lyle Gun being fired at the beach. This little cannon was used to shoot a rescue rope from shore to a sinking ship to set up rescue lines. The Lyle Gun is fired Thursday afternoons during the summer.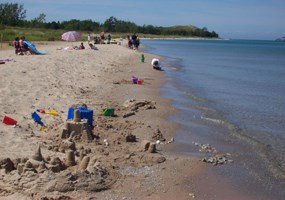 Be sure to get to one of the many beaches to body surf the Lake Michigan waves, make some sand castles, or get buried in the sand. There are miles of beautiful Lake Michigan beaches in the Lakeshore.
Of course, there are many options for camping, swimming, tubing, canoeing, and hiking. Check the Things To Do page for details.
Last updated: May 15, 2015