North Unity
North Unity is located in the northern part of Sleeping Bear Dunes National Lakeshore where Shalda Creek empties into Lake Michigan. Turn onto CR 669 and drive to Lake Michigan Drive which is the dirt road just before you reach Lake Michigan. Turn left and drive 0.8 miles to Shalda Creek, where you will find a vault toilet near the roadside. Hike back along the creek to Lake Michigan. Alternatively, you can park at the end of CR 669 by Lake Michigan and walk to the beach. Turn left and walk along the beach to Shalda Creek. This is the site of North Unity. There is no evidence of the little village, but as you read the story of these hardy immigrants, you can imagine what it might have looked like.
North Unity was settled in 1855 by a group of Bohemians from present-day Czech Republic and Germany, by way of Chicago. Francis (Frank) Kraitz, his wife Antonia, and their family arrived in Chicago from Pelhrimov, Bohemia in August, 1855. Shortly before their arrival several German families and a few Czechs formed a society they called "Verein" which is the German word for club or association.
An account of the early settlement written by one of the settlers, Joseph Krubner and published in Chicago Bohemian newspaper reveals the hardships of pioneer life.
According to Krubner, the Bohemians were looking for paradise. They hoped to find it in Chicago, but winter, few stores, and no jobs required they look further. So, the Verein hired a sailboat and sailed 270 miles up the Michigan coast still looking for paradise. They landed in Good Harbor where they found a group of people were already living there, so they travelled ten or so miles and settled near Pyramid Point. "Here, at the Lake Michigan near Pyramid Bay, in deep forests never touched by human hands, began a new city, North Unity, Krubner wrote.
A typhoid epidemic in Chicago caused the Kraitz family and their friends, the Vaclav Muzil family and the Krubner family to leave quickly for North Unity, which they did in October, 1855. Their ship ran aground off Racine, WI, but fortunately they were picked up two hours later by the Lady Elgin and taken to North Manitou Island. After a few days they were able to take a small boat to North Unity.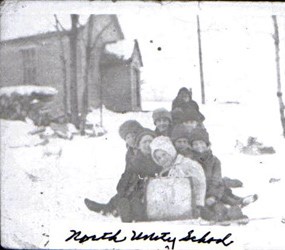 The immigrants built a wooden 150-foot by 20-foot barracks partitioned into sections to provide temporary housing for the families to house them through winter until they could select farm sites and build their own cabins. In spring they would select a farm site and build more permanent cabins. Some families built their own temporary shelters near the barracks, "everybody had his own idea," wrote Krubner. "Some houses were all covered with hemlock branches, leaving small openings for windows. They looked more like bear huts instead of homes for humans. Some places they built the log house so low it was difficult for tall man to stand up in one."
The temporary shelters were cold and damp in the harsh northern Michigan, and first winter was hard and cold. Lake Michigan lake froze and snow began to pile up, cutting off the little settlement. There wasn't enough food. There wasn't anything they could buy except a little corn from the Indians. Some had brought provisions with them from Chicago and shared the little flour and meat they had. No cows meant no milk. Living near the beach buffeted by winter winds, the Bohemians must of questioned whether they had indeed found paradise.
Hungry and desperate Frank Kraitz, Vaclav Muzil and a few other men took a sled and traveled across the lake to the island in hopes of buying some potatoes. The islands were settled long before the mainland, and the wooding industry—felling trees for cordwood which was sold to passing steamers for fuel—left cleared areas that islanders planted with potatoes and other crops. They bought a few bushels of potatoes and started back home. The return trip proved more difficult as the ice began cracking and breaking under their feet as the neared the shore.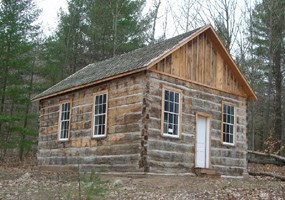 The potatoes lasted through the rest of winter, according to Krubner. "For a while hungry wolves were chased away from our doors. But with approaching spring, when the snow melted and the lake still frozen, no boats were able to reach us, potatoes and whatever we had was gone, hunger began to strike again." The Bohemians were saved again, this time by the annual spring migration of the now extinct carrier pigeon--large swarms of pigeons would descend on Northern Michigan, literally darkening the skies. This particicular spring, the pigeons provided ample food for the starving settlers. "Everyone who had a gun, and was able to use it, was shooting them," wrote Krubner. Soon after, the small lakes began to thaw and the Bohemians added fish to their menu.
As the weather warmed, individual families began to build their own houses, and start gardens, growing potatoes, cabbage, beans, and corns, as well as wheat. Cattle were brought in from Chicago two years later to provide milk.
The small community prospered as more people arrived building a sawmill and schoolhouse. In 1859, a two-story general mercantile opened; dances were held on the second floor. In 1859, the village was awarded a post office. John Shalda built a gristmill on the Lake Michigan outlet of Shalda creek.
Fires were common during the 19th century, especially in the spring. And in 1871, North Unity was destroyed by fire. Fires and the insufficient area for supporting the growing community led many families to move inland to what is know now as Shalda Corners (M-22 and County Road 669), where they rebuilt their homes, post office, stores, school, and church. The original Shalda store at Shalda Corners was built on the Southeast corner by Joseph Shalda. After a few years, he built a larger store on the Southwest corner which had a dance hall above the store and an ice house for cooling dairy products and beer.
As you drive back out to M-22, notice the little restored log cabin at the corner of M-22 and CR 669. This is called the Shalda Cabin. It was built in the mid-1860s. Another interesting original building of North Unity is the school. It is a log building located just west of Narada Lake on M-22.
Last updated: January 31, 2018