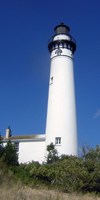 The only lighthouse in the Sleeping Bear Dunes National Lakeshore is located on South Manitou Island. Tours are available daily during the summer. To take a tour, plan a day trip to the island and talk with the ranger when you get there. For more details about the history of the lighthouse, visit the SMI Lighthouse web page. There was a lighthouse on North Manitou Island as well. It was built in 1896 and was closed in 1935 and unfortunately, fell into the lake due to shoreline erosion in October of 1942.
There are several other lighthouses near Sleeping Bear Dunes National Lakeshore. The North Manitou Shoal Light, also known as the "Crib" is located on the shoal between North Manitou Island and the mainland. You will pass near this light if you take a ferry ride to one of the islands. The Point Betsie Lighthouse is located at Point Betsie, between the southern boundary of the Park and Frankfort. It is open to the public. The Grand Traverse Lighthouse is located at the tip of the Leelanau peninsula north of the Park. To see more details of these and Other Michigan Lighthouses, click the link.
Lighthouses were used as navigational aids to identify shorelines and shoals in the U.S. from the early 1700s to the early 1900s when electronic navigational equipment became available. The first lighthouse built in the U.S. was constructed in Boston Harbor in 1716, and the first lighthouse in the Great Lakes was built at Fort Niagra, NY in 1818.
At one time, there were approximately 1,400 lighthouses in the U.S. and today only about 750 remain. Several were sold as surplus in the 1930s and some keepers' quarters were razed by the U.S. Coast Guard.