Teacher-Ranger-Teachers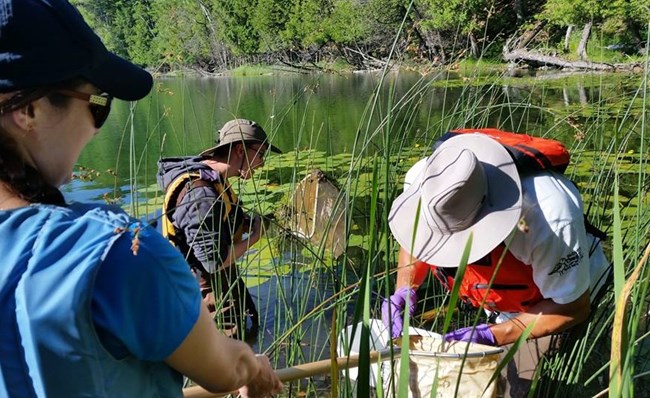 Sleeping Bear Dunes National Lakeshore (Lakeshore) is recruiting a virtual Teacher-Ranger-Teachers (TRT) to spend the summer collaborating with rangers to develop education programs. Materials received by April 8 will receive first consideration.
What is a Teacher-Ranger?
The nationwide Teacher-Ranger-Teacher (TRT) program is a unique professional development opportunity for educators to gain experience during the summer working side by side with National Park Service Staff.
If selected, you will receive training, gain knowledge and experience, and work with Sleeping Bear Dunes National Lakeshore for eight weeks between June and August. Then, take your experiences back to the classroom to share with your students.
The intent of the Teacher-Ranger-Teacher program is to provide well-rounded experiences for teachers in national parks. During their experience, teachers will develop National Park Service materials to be shared with their students in the classroom and on the web. The program will focus on teachers from schools that have diverse student populations.
What are the benefits?
For Teacher-Ranger-Teachers:
Three Graduate credits from the University of Colorado, Denver (CU Denver).
Professional development providing a wide range of new knowledge and skills through working with park staff and partners
Gain access to an extensive array of teaching resources and tools to enhance classroom curriculum in multiple content areas
Begin or extend a personal and professional connection with national parks
Stipend upon program completion
For schoolchildren:
Place-based learning
Opportunities and resources to connect to their natural and cultural heritage in new way
Awareness of the possibilities for volunteering and paid employment with the National Park Service
2023
The 2023 TRT will create activities and program materials as part of the Lakeshore's new night sky curriculum for 4th and 5th grade. The project and coursework should equal approximately 240 hours of effort by the TRT. The participant will receive a stipend upon completion.

The position will be virtual, with the TRT conducting their work remotely on their own equipment. The TRT is encouraged to make day trips to the National Lakeshore to engage with staff and visitors.
How do I apply?
Email the below information to slbe_education@nps.gov. Information received by April 8 will receive first consideration.
Interviews will be conducted the week of April 10 and a teacher will be selected by April 21.
Please send the following:
Resume
Cover letter
Two references
A document with answers to the below questions: (copy and paste into a text document.)
School Name and Location:
Grade levels and subjects taught:
Do you teach at a Title I school?

If yes, what percentage of your students qualify for free and reduced-price lunches?

Can you commit to approximately four-eight weeks of time during the summer season (June-August, depending on park needs)? June 12-July 30 are the dates for the online course through University of Colorado Denver.
Describe your most effective lesson unit/lesson plan that actively engaged students in hands-on learning. Why was it successful?
Describe your experience with citizen science or with scientific collection, identification, and data input regarding plants and/or animals.
Describe your interest or knowledge of the night sky (constellations, celestial bodies, nocturnal adaptations.)
Why do you want to participate in the Teacher-Ranger-Teacher program?
How will you use your TRT experience to enrich your classroom teaching and create opportunities for your students to connect to the National Park system?
How will you share information and skills acquired through this experience with your school and district colleagues?
For more information
The National Parks Service | Teacher Ranger Teacher Program
Last updated: March 24, 2023