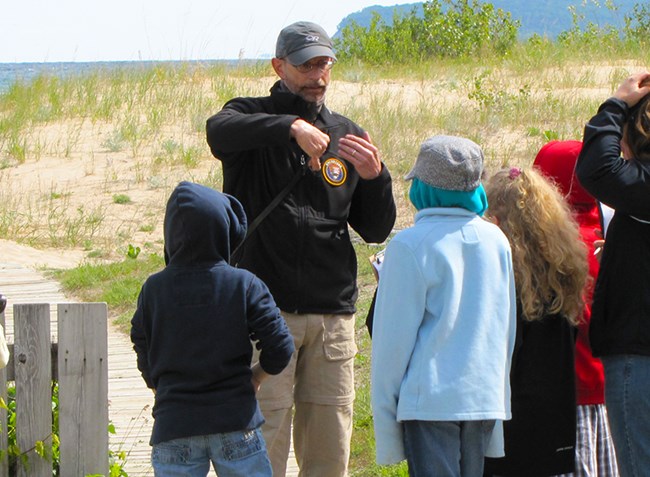 Come live the dream and share your passion for the wilderness by becoming a Teacher-Ranger-Teacher at Sleeping Bear Dunes National Lakeshore.
What is a Teacher-Ranger?
The nationwide Teacher-Ranger-Teacher (TRT) program is a unique professional development opportunity for educators to gain hands-on experience during the summer working side by side with park interpreters, researchers, law enforcement rangers, resource managers, maintenance rangers, and other specialists.
If selected, you will receive training, gain knowledge and experience, and work at Sleeping Bear Dunes National Lakeshore for eight weeks between June and August. Then, take your experiences back to the classroom to share with your students.
The intent of the Teacher-Ranger-Teacher program is to provide well-rounded experiences for teachers serving with park rangers in national parks. During their experience, teachers will develop National Park Service materials to be shared with their students in the classroom and on the web. The program will focus on teachers from schools that have diverse student populations.
What are the benefits?
For Teacher-Ranger-Teachers:
$3,000 stipend

3 Graduate credits from the University of Colorado, Denver (CU Denver).

Professional development providing a wide range of new knowledge and skills through working with park staff and partners

Gain access to an extensive array of teaching resources and tools to enhance classroom curriculum in multiple content areas

Begin or extend a personal and professional connection with national parks

Housing in the park (if needed). Government housing is in, or near, Empire, MI, and is shared with one or more seasonal staff members.
For schoolchildren:
Place-based learning

Opportunities and resources to connect to their natural and cultural heritage in new way

Awareness of the possibilities for volunteering and paid employment with the National Park Service
What would I do in the park?
The 2018 TRT will assist in the development of lesson plans and program materials necessary to facilitate the Lakeshore's participation in the Dragonfly Mercury Project (DMP), a nation-wide program where citizen scientists help use dragonfly larvae as indicators of mercury contamination in the environment.
The TRT will create pre-visit and on-site lessons and program materials. They will also create a post-visit, project-based activity for teachers and students to complete in their classrooms that will enable them to share what they have learned about citizen science, the national parks, or the DMP. The Lakeshore is in need of hands-on lessons and activities that are tied to Next Generation Science Standards for middle and especially high school students. We are seeking a TRT that has experience working with these grade levels teaching science to help us develop a program that will allow students to do citizen science in their community and participate in the national study. The TRT may also help develop a distance learning program, work with a variety of park experts, and gain experience helping with other park programs or special events.
How do I apply?
e-mail us for an application! Applications received by April 30th will receive first consideration. The TRT can expect to begin work at the park sometime in June.