Fall and Winter Interpretation Interns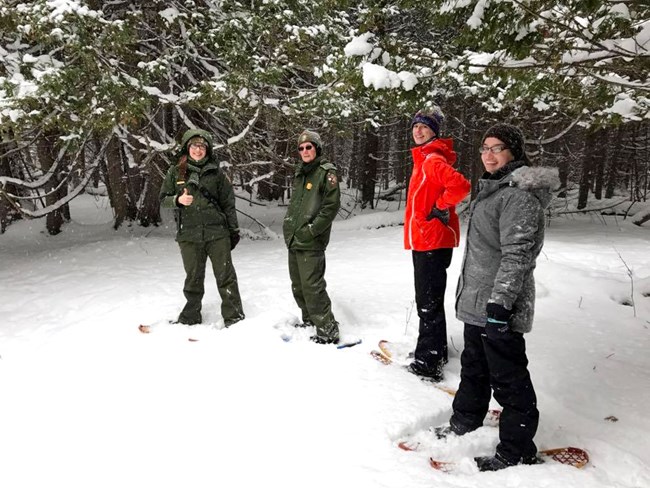 Do you enjoy working with kids? Do you like to play in the snow? If so, we have an excellent opportunity for you! Sleeping Bear Dunes National Lakeshore is now recruiting winter interns for the 2023 season.
Interns will gain valuable experience in the fields of environmental education and interpretation. Interns will also be introduced to the policies, procedures, and career paths within the National Park Service. Internships in the National Park Service bolster student skills and experience, and are designed to be stepping stones to careers within the agency or similar workforce.
Winter Education Interns - 2023
The internship is roughly 3 months, with start dates in January. Interns will generally work Monday-Friday, or Tuesday-Saturday, 8:00-4:30.
Work includes presenting virtual and in-person curriculum-based lessons and activities on topics like ecology, ecosystem health, the National Park Service mission, and local history. Interns may also assist in leading snowshoe hikes for 3rd-12th graders and for the general public. Interns will create and post content on the park's social media platforms, including Facebook, Twitter, Instagram, and YouTube.
Interns receive a stipend of $20 per day, government housing, and a volunteer uniform. Interns are required to provide their own snow/rain pants and waterproof boots. Snowshoes will be available for the interns to use during educational and interpretive programs. Snowshoeing experience is not necessary, however interns must be physically capable of snowshoeing.
This position is open to current college students and recent graduates.*
*Recent graduates must have graduated from college within 2 years of the anticipated start date of the position.
The internship time period is early January to mid-March with the opportunity for extension based on student academic requirement.
How to Apply
Applications received by Aug. 30, 2022 will receive first consideration.

To apply for an internship email or postal mail the following:
Cover letter why are you a good candidate?
Résumé include relevant jobs and/or life experience
References contact information for at least two
Letter of recommendation at least one
Unofficial transcripts will be requested after initial materials are received.

Email your documents to slbe_education@nps.gov
or mail your documents to:
Sleeping Bear Dunes National Lakeshore
ATTN: Education Technician
9922 Front Street
Empire, MI 49630
For more information, visit the Sleeping Bear Dunes National Lakeshore website at http://www.nps.gov/slbe/. Or contact the Winter Intern Coordinator at: slbe_education@nps.gov.
Last updated: August 1, 2022