Intertidal and Subtidal Zones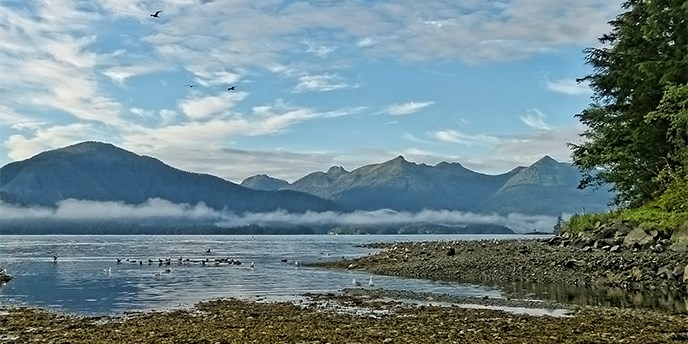 The intertidal zone and estuarine areas comprise nearly half (44%) of the park's total acreage. The park leases and manages 50 acres of tidelands from the city of Sitka and the State of Alaska. The park's beaches and tidal flats have been shaped by the constant forces of tides and wave action. Water-bird feeding, salmon migration, and provision of essential clam bed habitat are just a few of the important functions of the park's intertidal zone.

The beach has risen above the wave zone through isostatic rebound and has been colonized with terrestrial vegetation. From the 1804 battle to the 1940s the area included open grass, beach, and beach meadow across the peninsula. Now it is made up of irregular topography that supports several plant communities. The beach meadow is increasingly being enclosed by alders and other small trees and shrubs.
Many intertidal animals and ecosystems are well adapted to harsh physical extremes, but are very sensitive to unnatural changes and are slow to recover. Sitka National Historical Park engages citizens to monitor the intertidal community. This program will detect change in populations through time occurring both naturally and as a result of human disturbances.
The intertidal area of the park is a place of of boulders and small rocks and some sandy bottom tidepools. It provides needed habitat for a diverse group of seaweed and animals.



Last updated: February 7, 2019