Basic Information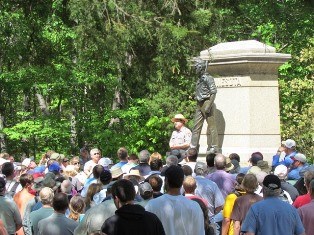 Shiloh National Military Park contains a wide array of historic sites. In addition to the pristine 5,000 acre Shiloh Battlefield, the park contains a separate unit at Corinth, Mississippi. Located within the boundaries of Shiloh Battlefield is a United States National Cemetery, which contains the graves of 4,000 soldiers and their family members. The Shiloh Indian Mounds National Historic Landmark is also located within the Shiloh Battlefield boundaries and preserves the remnants of a Mississippian Era Indian village.
In Corinth, the National Park Service administers the Corinth Civil War Interpretive Center, located next to historic Battery Robinett and contains about 15,000 square feet of interactive exhibits, videos, and artifacts, interpreting the siege and battle of Corinth. The Corinth Contraband Camp site, a camp established by the Union Army where thousands of former slaves took their first steps toward freedom, is also located in Corinth and preserved by the National Park Service.
Normal operating hours are 8:00 a.m. –5:00 p.m. every day. Facilities are closed on Thanksgiving Day, Christmas Day, and New Year's Day.
Ranger led tours, programs, and demonstrations, are offered throughout the peak season, usually Memorial Day through Labor Day.
Go to our Things to Do page for more detailed information.
School groups that would like to plan a visit.
Military groups planning a staff ride in the park please contact Matt McMillan at 731-689-5696.
For more information contact Shiloh National Military Park @ 731-689-5696 or the Corinth Civil War Interpretive Center @ 662-287-9273.
Last updated: January 2, 2022