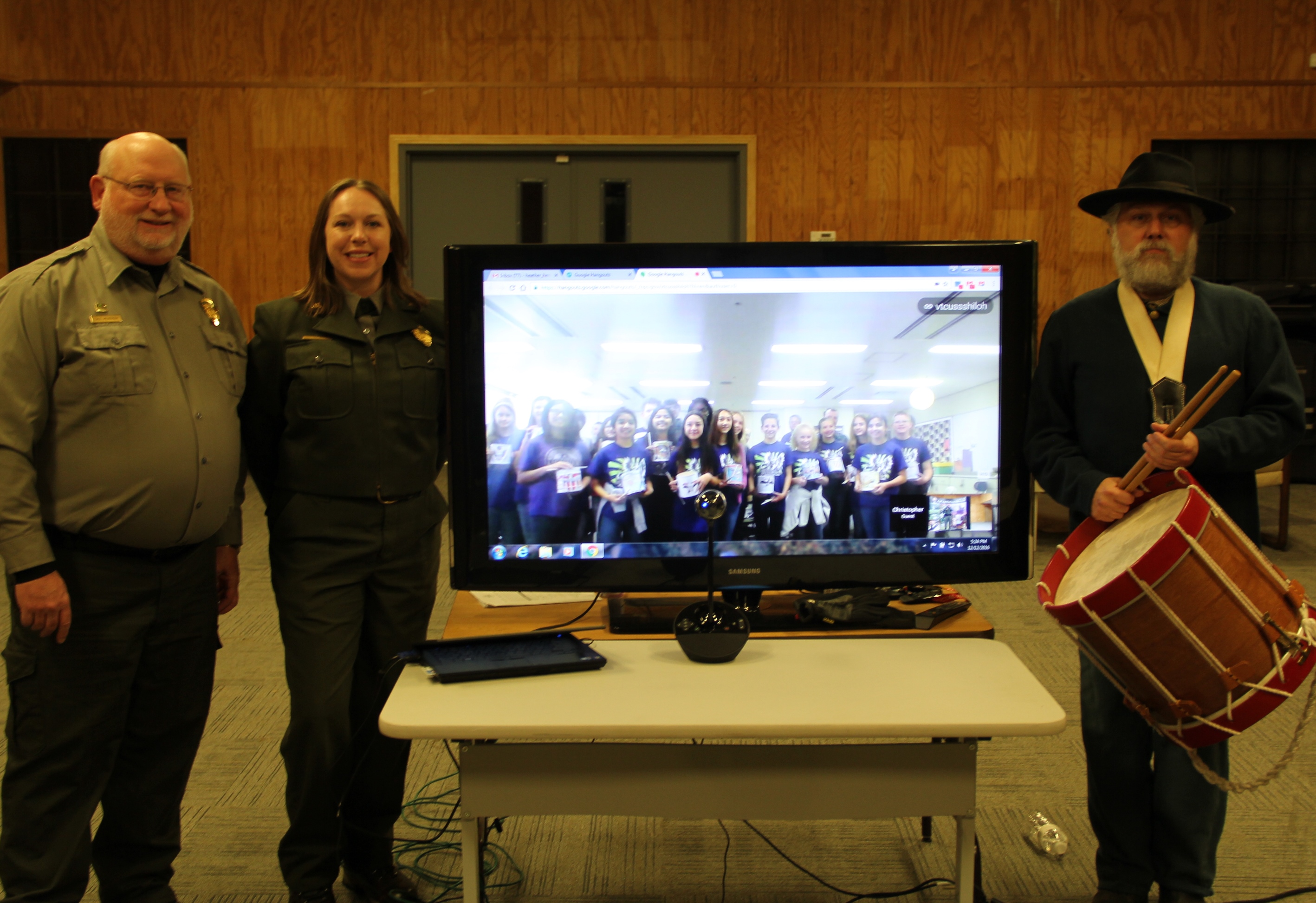 News Release Date:
December 13, 2016
Contact: Chris Mekow, 731-689-5696
On Monday, December 12, 2016, interpretive rangers from Shiloh National Military Park led a distance learning program for children of United States Navy personnel of the USS Shiloh (CG-67) at Yokosuka Navy Base in Japan. Conducted live with video and audio via Google Hangouts, the program introduced twenty 7th grade students to the history and duties of Civil War drummers and taught them several drum calls used in the war. They also learned about the role of the drummers in the Battle of Shiloh, an overview of the battle, and why the battlefield is preserved today by the National Park Service.
The 20 students were organized into "Team Shiloh" and each member received a kit shipped to Japan from Shiloh National Military Park to create and decorate their own Civil War drum. The students decorated drums with patriotic symbols such as eagles, military insignias, and flags. Ranger Chris Mekow appeared to the students on a large screen live from West Tennessee. In the classroom were the commander of the USS Shiloh, Capt. Adam Aycock; Yokosuka Middle School Teacher, Mr. Dale Duncan; and five volunteers from the ship's crew who assisted with the program and joined in playing drum calls. Mr. Duncan stated, "I appreciate the opportunity to do this. It allows us and our students to connect in a very special way to our nation's military parks and our active-duty service members." 
The USS Shiloh is a Ticonderoga-class guided missile cruiser forward-deployed to Japan in support of security and stability in the Indo-Asia-Pacific region. Without this interactive video lesson, initiated by Shiloh National Military Park in partnership with Captain Aycock of the USS Shiloh, the crew and their children would not have had an opportunity to learn in a meaningful way about THEIR park. The park staff hopes that this historic and interactive learning program is the first of many between the ship and Shiloh NMP. The USS Shiloh is crewed by more than 350 sailors of the Millennial Generation, and their dependents who are with them wherever the boat is deployed.