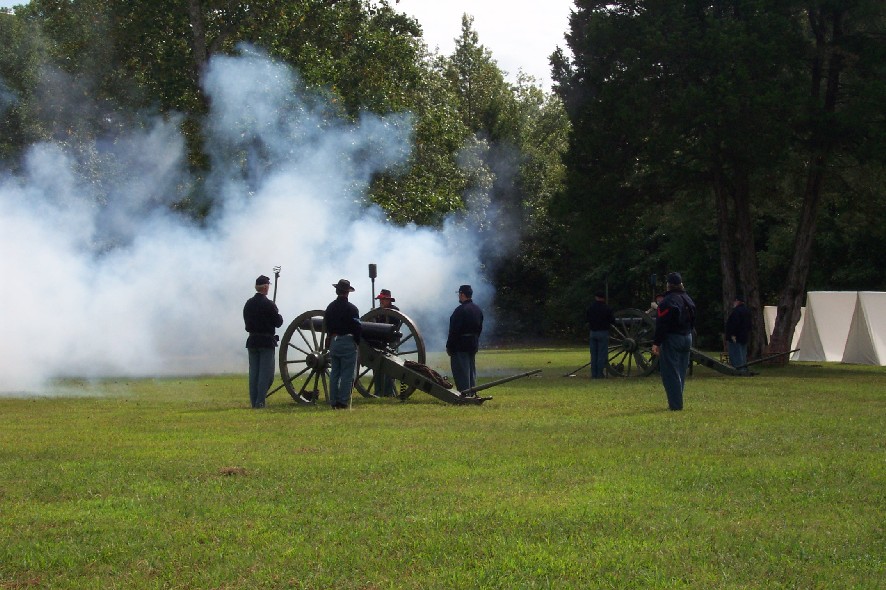 News Release Date:
June 9, 2009
The National Park Service will offer three fee-free weekends this summer to encourage Americans seeking affordable vacations to visit these national treasures. The fee-free weekends were announced by Secretary of the Interior Ken Salazar on Tuesday, June 2, 2009. According to Secretary Salazar, "During these tough economic times, our national parks provide opportunities for affordable vacations for families." Secretary Salazar noted that there are 391 NPS sites across the nation; and pointed out that over 200 of them never charge an entry fee. In addition, the 147 sites that do charge entrance fees will waive them on these special weekends.
The American public is encouraged to visit one of the nation's crown jewels this summer and especially to take advantage of the three free-admission weekends of June 20-21, July 18-19, and August 15-16, 2009. Shiloh Battlefield is one of the 147 sites to participate in the fee-free weekends. In addition to entering the park for free, visitors to Shiloh during these particular weekends will have the opportunity to take advantage of a special being offered by the park's cooperating association, Eastern National: a 15% discount on any single item purchased at the Shiloh Bookstore.  
"A visit to Shiloh Battlefield should remind us our nation has often faced difficult times in the past, and has always come through those times better and stronger than before," said Shiloh National Military Park Superintendent Woody Harrell. "Perhaps during these tough economic times, reacquainting ourselves with the heritage that our diverse national park system preserves can provide solace and a source of inspiration for the future."  
Shiloh Battlefield has special events scheduled during the June and August fee-free weekends. Members of Selden's Alabama Battery will present artillery demonstrations on Saturday, June 20 and Sunday June 21, 2009. The original battery honorably served in the Civil War, fighting at KennesawMountain, Peach Tree Creek, Franklin and Nashville. A period camp will be set up for the public to visit. Living Historians will discuss life as a Civil War soldier and demonstrate the loading and firing of artillery. The programs will feature two 12-pounder Napoleon cannons and will last approximately 30 minutes. The demonstrations will take place at Tour Stop #4, Ruggles' Battery. Programs are scheduled at 11:30 a.m., 1:00 p.m., 2:30 p.m., and 4:00 p.m. on Saturday and on Sunday at 11:30 a.m., 1:00 p.m., and 2:30 p.m. 
Saturday, August 15 and Sunday, August 16, 2009, Shiloh Battlefield will have members of the 7th Tennessee Dismounted Cavalry presenting living history programs. Visitors are encouraged to visit the period camps, talk with the re-enactors, and watch as the cavalrymen provide a variety of demonstrations ranging from cavalry bugle calls to firing demonstrations. Activities are schedule throughout the day on both Saturday and Sunday. 
Shiloh Battlefield offers daily ranger led programs throughout the summer. The schedules are available in the VisitorCenter. A Junior Ranger program is available for children ages 7-15. Upon completion of the activity book, children receive a certificate and badge. For more information about the upcoming living history programs call the VisitorCenter at 731-689-5696 or visit the park website www.nps.gov/shil. A detailed schedule is posted under Schedule of Events on the website. 
ShilohNationalMilitaryPark's two visitor centers are open daily. ShilohBattlefieldVisitorCenter is open from 8:00 a.m. to 5:00 p.m. The Corinth Civil War Interpretive Center is open from 8:30 a.m. to 4:30 p.m. To learn more about fee-free weekends in national parks around the country, go to https://www.nps.gov/findapark/feefreeparks.htm.