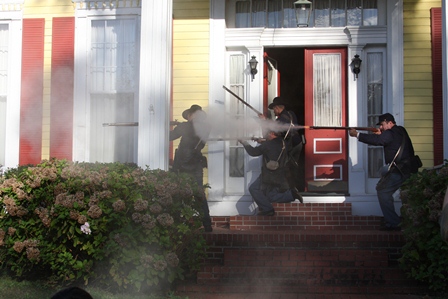 News Release Date:
June 13, 2013
Shiloh National Military Park Superintendent John Bundy proudly announces the premiere of a new interpretive film, "Corinth Crossroads: A Town Amidst War." The premiere viewing of the new film is scheduled for Thursday evening, June 20, 2013 at 7:00 p.m., at the park's Corinth Civil War Interpretive Center, located at 501 West Linden Street in Corinth, Mississippi.
"This new 20-minute film, produced by Argentine Productions of Pittsburgh, Pennsylvania, highlights the history surrounding the human drama experienced by our ancestors at Corinth during the Civil War," states Bundy. The film opens amid the bloody aftermath of the Confederate defeat at the battle of Shiloh and weaves its historic narrative by highlighting the wartime drama encountered by participants, both civilians and soldiers, who witnessed firsthand the continuing prosecution of the war during the subsequent siege and later battle of Corinth. As a town strategically located directly in the path of the war that transformed American society, the film further highlights the role Corinth played, while occupied by Union forces, in the lives of thousands of African-Americans who fled slavery and found safe haven at the Corinth Contraband Camp, which was inhabited by the freedmen and women until Union forces abandoned the town in early 1864.
Many of the live action sequences for Corinth Crossroads: A Town Amidst War were filmed in the immediate area in October 2012. Scenes were filmed at many of the surviving antebellum homes in Corinth and at related historic sites in Alcorn County, as well as using many locations on Shiloh battlefield.The majority of actors in the film, men, women, and children, as well as many of the voice overs depicting historic personages are current local citizens from Corinth, Alcorn and neighboring Hardin County.A large number of the costumes worn by actors were provided by C & D Jarnagin, Inc., in Corinth. The new park film is narrated by Mississippi native Cassandra Wilson, a Grammy Award winning Jazz musician, vocalist, songwriter, and producer from Jackson, Mississippi.
"We invite the public to visit the Corinth Civil War Interpretive Center to view this new film and spend time among the Center's exhibits, which further expand our appreciation and understanding of the pivotal role Corinth played during our Civil War" states Superintendent Bundy. After its public premiere on June 20th, park visitors can view the film every 30 minutes throughout the day.The Center is open to visitation daily, except Christmas Day, from 8:00 a.m. to 5:00 p.m.