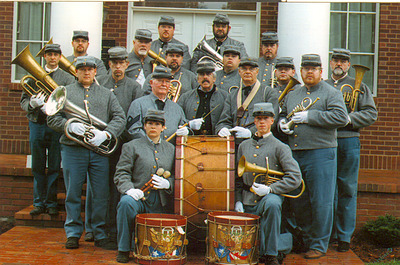 News Release Date:
May 8, 2017 In 2016, Shiloh National Military Park celebrated the Centennial of the National Park Service by hosting a free summer music concert series on the battlefield. The five concert series, representing several genres of American music, drew more than 4,000 spectators, with more than 50,000 people following the shows in real time on the park's social media sites.  
For 2017, the park will again present a series of free concerts in the park. On Saturday, May 27, the park is proud to present a free Civil War music concert featuring Steve and Lisa Ball, and the Eighth Regiment Brass Band. The concert will be held on the park Visitor Center lawn.  
Steve Ball hails from Columbus, Ohio, and has devoted the last twenty years of study to Civil War music. He has performed all over the Midwest playing at living history events, symposiums, Civil War roundtables, re-enactments, and other historical venues. Ball has released two CDs and is currently working on a new CD devoted to the music of Stephen Foster. Ball also collects vintage instruments, mostly guitars, the earliest being an 1845 Martin acoustic guitar. His show includes songs from the 1850s that would be important regarding the climate of the country before the war began in 1861. For this performance, Ball will be joined by his wife Lisa, who plays upright bass and sings harmonies.  
The Eighth Regiment Brass Band is celebrating their 30th year as a touring and recording Civil War band. Formed in 1986, in Rome, Georgia, "The 8th" represents a modern counterpart to the band of the Eighth Regiment, Georgia Volunteer Infantry, who served in the Confederate Army from First Manassas to Appomattox. "The 8th" also portrays the band of the 8th New York National Guard in Union blue, to better present, as they say, "a living museum of 19th century emotions" in music. The Eighth Regiment Brass Band has performed live on Good Morning America and National Public Radio, as well as several Great American Brass Band Festivals, many National Parks, and the final interment of HL Hunley crew in 2004. They have also provided soundtrack music for made-for-TV movies and documentaries.    
The free May 27 concert will begin with a one-hour performance by Steve and Lisa Ball at 5:30 p.m. The Eighth Regiment Band will go on around 6:45 p.m. In addition to music, there will be a Junior Ranger booth with activities for the kids starting at 12:00 p.m. and running through the performance. Shiloh will also be presenting Civil War artillery firing demonstrations at 10:30 a.m., 12:30 p.m., 2:00 p.m. and 4:00 p.m. on Saturday, and 11:00 a.m., 1:00 p.m., and 2:30 p.m. on Sunday. All the events are free and open to the public. Visitors are invited to bring their lawn chairs, blankets, and picnic baskets to the concert.  
For more information on this and other park events call the visitor center at 731.689.5696, or go to the park website at www.nps.gov/shil, find them on Facebook at /ShilohNMP, or follow them on Twitter at /shilohnps.