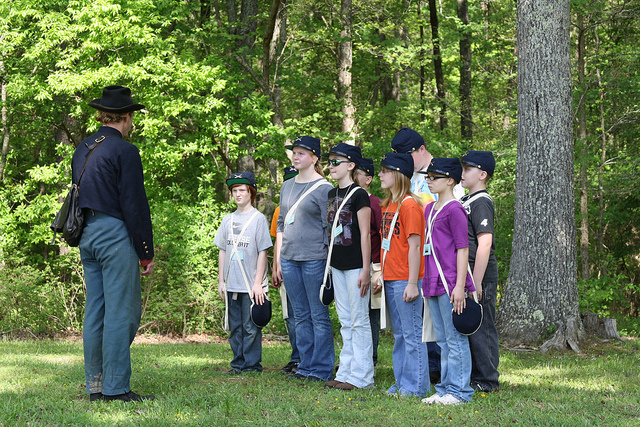 News Release Date:
July 9, 2015
Superintendent Dale Wilkerson is pleased to announce a day of fun and educational activities for local children. A Civil War themed Kids' Day Camp will be held on Saturday, July 18, 2015, at Shiloh National Military Park. The day will consist of different and exciting hands-on activities for kids 9 –11 years old that relate to the Battle of Shiloh and the American Civil War.
Activities include learning the manual of arms through the School of the Soldier, participating in a historical scavenger hunt along Grant's Last Line, and discovering the letters soldiers wrote home, as well as, writing a letter of their own.
"We are excited to present this opportunity to area children. We hope the fun filled, yet educational, activities will introduce young people to history and the importance of preserving a historic battlefield like Shiloh," stated Superintendent Wilkerson. The camp will be located out of doors, so children will need to come prepared to stay outside during the camp. Participants need to bring snacks, bug spray, sunscreen, and wear comfortable clothing for outside activities.
Participation is by registration only, as the program can only accommodate 30 children. Registered children will participate in the activities noted above from 9:00 am until 12:30 pm. If you would like to register your child, please contact the Shiloh Visitor Center at 731-689-5696.