Giant Forest and Lodgepole Winter Trails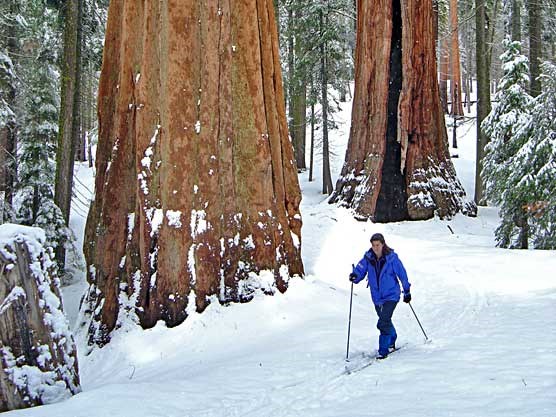 If you visit this area in winter and trails are snowy, the only trail that is plowed regularly is a short stretch near the General Sherman Tree. While walking watch out for icy and snowy spots on the trail.

If you'd like to cover more distance, give skis or snowshoes a try. You don't need to go far or fast, and snowshoes are easy to use. It is a great way to enjoy the sequoia forest in a very different style! Check at visitor centers for information on where you can rent equipment. Purchase a ski trail map or ask the ranger for details. And consider joining one of our free ranger-led snowshoe walks! Equipment is provided.
Wherever you go, be safe!
Carry a map, warm clothes, sunglasses, and water. Visitor centers and the Sequoia Park Conservancy's online store carry maps of ski and snowshoe trails. Orient yourself before heading out and tell someone where you are going. You are on you own in the winter woods!
Walkers and snowshoers: Avoid walking in ski tracks. It makes them dangerous for skiers.
Watch for wildlife tracks in the snow. Bear, deer, mountain lions, martens, weasels, coyotes, and squirrels may be active all winter.
Get to know the snow forest: This forest was designed for snow. Most trees are cone-shaped, minimizing the amount of snow that catches on them. The branches are flexible, so that they bend to dump what snow does stick when it get too heavy.
Last updated: February 22, 2017