Science & Research
Scientists and resource managers have conducted research and resource management studies for decades in Sequoia and Kings Canyon National Parks. Science helps guide decisions and park operations and enriches park interpretive programs. Visit the links below to learn more about science in the parks. Scientists interested in conducting research here can find information below about park research permits and park research priorities.

Learn more about our new Resource Stewardship Strategy and Research Prospectus.
Current Projects and Programs
Sequoia and Kings Canyon National Parks rely on a diversity of research and applied field work to manage park resources and make informed decisions. In addition to National Park Service projects, 60-80 research projects from universities and other agencies and organizations are permitted to use study sites in the parks in any given year.
Research and monitoring topics range from large-scale studies of landscape-level change to studies of single species. Studies may also address cultural resources, physical resources such as glaciers and caves, and processes of change such as fire and climate.
Monitoring projects are longer term studies that track changes in resource condition while research projects typically target a specific set of questions over a shorter period of time.
Explore the links below to learn more about current research and resource management projects in the parks, work that is conducted by the National Park Service as well as scientists from other agencies, universities, and non-government organizations.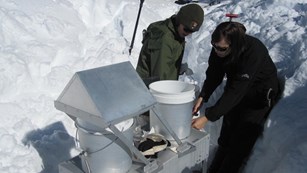 Monitoring Park Air Quality
Learn about the parks' air quality monitoring program, which monitors ozone, visibility, and atmospheric deposition.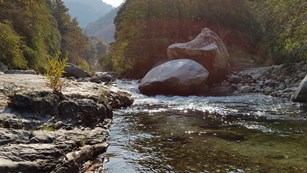 Exploring Soundscapes
Learn more about how scientists study park soundscapes to characterize biodiversity.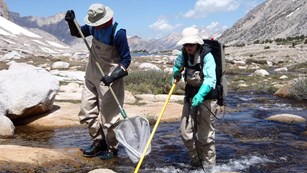 Ecological Restoration
Learn about how wildlife, meadows, high-elevation lakes, and giant sequoias have benefitted from restoration projects.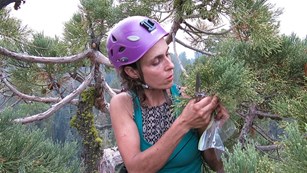 Giant Sequoias and Drought
Recent severe drought and tree mortality prompted research to study the sensitivity of giant sequoias to drought.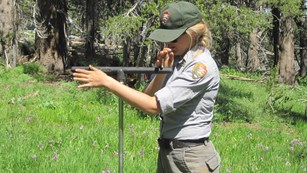 NPS Inventory & Monitoring
Vital signs monitoring in Sierra Nevada parks includes wetlands, lakes, birds, high-elevation forests, rivers, and climate.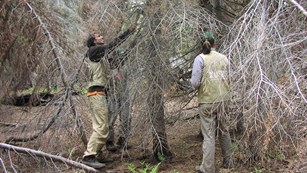 U.S. Geological Survey Field Station
The USGS Sequoia-Kings Canyon Field Station conducts research that informs the parks' natural resources and fire management programs.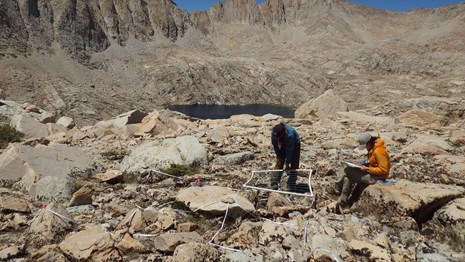 Monitoring Alpine Vegetation
Sequoia National Park is part of a global network monitoring alpine plants at the tops of the world's highest peaks.
Doing Science in the Parks
Scientists interested in doing research in these parks can link to topics below to learn more about research permits, priorities, and opportunities.
Sometimes there are opportunities for park visitors and people from local communities to participate in park science events, such as the annual Christmas Bird Count, the Dark Sky Festival, and making observations of plants and animals.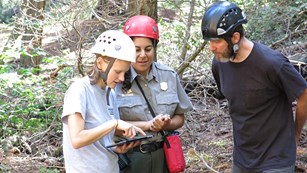 Research Permits
Learn how to apply for a permit to conduct research in the parks. Photo: Wendy Baxter, University of California, Berkeley.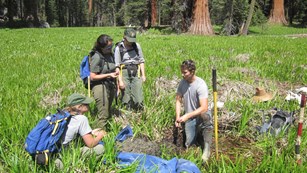 Research Priorities
Research priorities identify information needed to guide park resource management decisions and activities.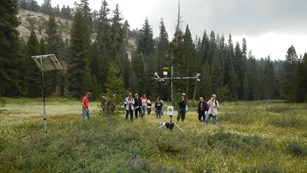 A Science Learning Center-Without-Walls
A Science Learning Center supports research, science, and education by providing a variety of infrastructure and services.
Science Symposium
Sequoia and Kings Canyon National Parks strive to host a science symposium every other year to share research needs and results with our community of researchers, resource management scientists, interpreters, and educators. In 2016, the parks initiated this effort as part of the NPS Centennial. Learn more by downloading the
2016 symposium report
.
Last updated: August 10, 2022