News Release
Sequoia and Kings Canyon National Parks Release 2019 Fire Year Summary and 2020 Prescribed Burn and Mechanical Treatment Plans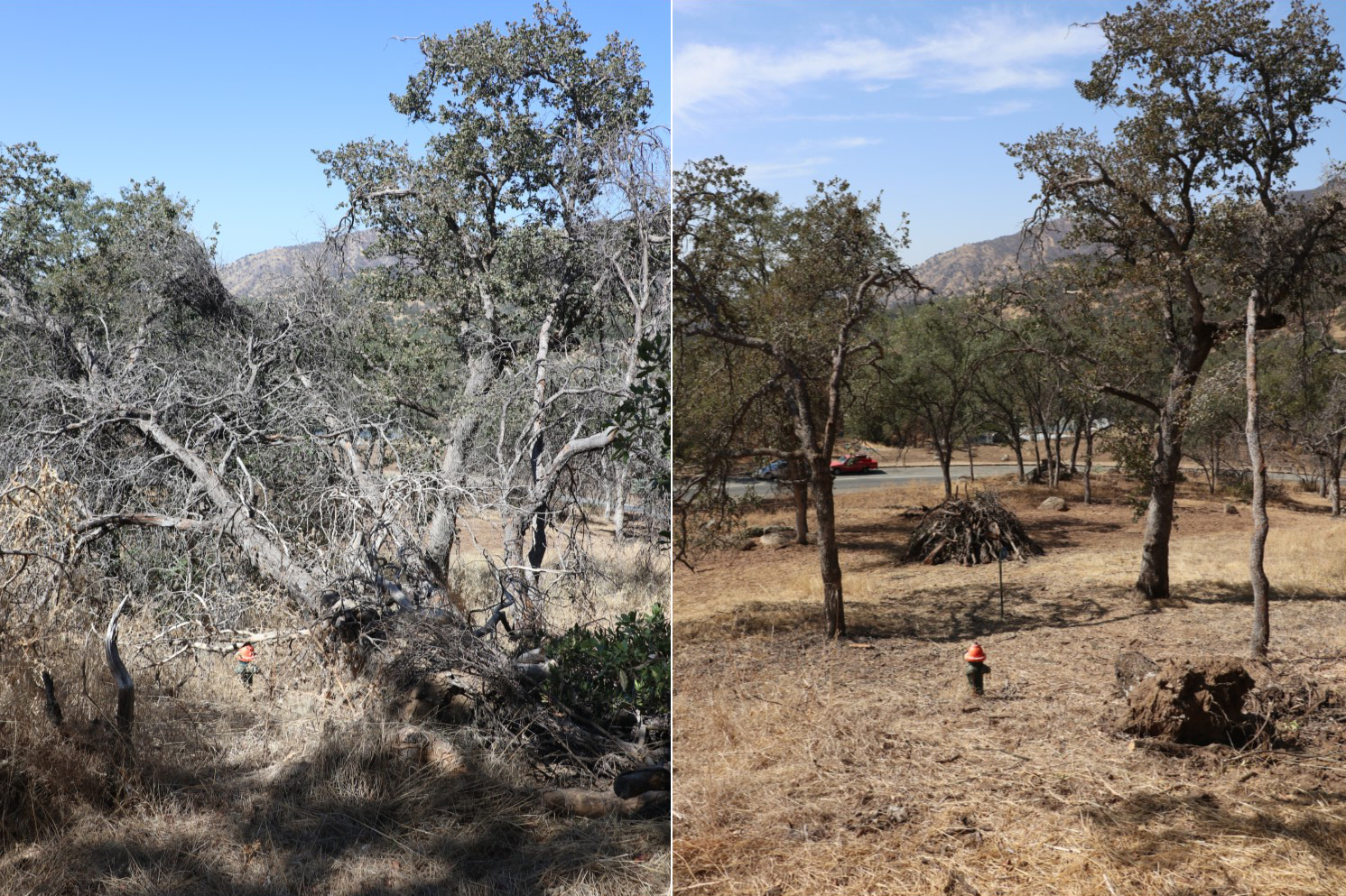 News Release Date:
January 25, 2020
Contact: Mike Theune, Fire Information Officer, 559-565-3703
SEQUOIA AND KINGS CANYON NATIONAL PARKS,
Calif. January 25, 20202 – Sequoia and Kings Canyon National Parks are releasing their 2019 fire year summary and 2020 prescribed burn and mechanical treatment plans to the public.
Mechanical fuels treatments, prescribed burns, lightning-caused wildfires managed for multiple objectives, one being full suppression, all play a role in protecting these highly valued resources and assets. The use of a variety of wildland fire management tools makes wildfire management efforts much more safe and cost effective.
In 2019, the parks had fifteen wildfires, ten human-caused, one unknown, and four lightning-caused.  Human-caused fires trended about the same on a ten year historic average, however, there was less lightning activity than normal. Lower lightning activity coupled with a very wet winter and spring in the parks in 2019 resulted in lower wildfire acres in the parks, totaling just under 3 acres.
Firefighters and fire personnel additionally responded to mutual-aid fire requests on neighboring lands and supported ninety-seven in-park search-and-rescues. Furthermore, fire staff traveled to forty off-park fires / incidents in 2019, including assignments as far away as Florida, Alaska, and Alberta, Canada.
As a result of light suppression activity state-wide, fire resources were abundantly available and fire managers were able to utilize these resources to complete four significant projects in 2019 totaling over 800 acres of mechanical treatments and prescribed burns. The 489-acre Sherman Prescribed Burn in Giant Forest of Sequoia National Park was the biggest highlight of the year. This multipart project built upon decades of previous work maintaining low-intensity prescribed burning in the most visited sequoia grove in these parks. Over 15,000 visitors to the area during ignitions got to see first-hand how carefully applied prescribed burns can better protect these special places for future generations.
"For over fifty years we have successfully reintroduced prescribed burns in this ecosystem," shared John Ziegler, fire management officer for Sequoia and Kings Canyon National Parks. "By using scientific parameters and research, these projects don't just reduce the risk from unwanted high-severity wildfires, but help to ensure the sustainability of our landscapes for generations to come."
Each year, managers prepare an Annual Fuels Treatment Plan that lists all the approved prescribed burns and mechanical fuel reduction projects that will help the parks accomplish goals. In all, there are eight planned projects totaling over 3,000 acres. Nearly 200 acres will be focused on mechanical thinning treatments to reduce hazardous fuel build up around parks' headquarters and Grant Grove areas.
Depending on weather and fuel conditions, the earliest projects planned for this year are the 244-acre Cedar Central Prescribed Burn and the 20-acre Ash Mountain Prescribed Burn. Additionally the parks are planning for the 470-acre Tharp's Prescribed Burn, 669-acre Lost Grove Prescribed Burn, 562-acre Park Ridge Prescribed Burn, and the 941-acre Deer Creek Prescribed Burn.
A full list of the planned projects can be seen by visiting
http://go.nps.gov/sekifireplans
. All projects and dates are subject to change based on weather and fuel conditions.
If you are visiting the parks, be aware that fire and smoke can be present at any time. Since the execution of burns depends on air quality, local fire activity, fuel moisture, and weather, the times and dates listed on the website are estimates only.
-NPS-
About Sequoia and Kings Canyon National Parks' Fire Management Program
For over fifty years, our mission has been to use the full range of options and strategies available to manage fire in the parks. This includes protecting park resources, employees, and the public from unwanted fire; building and maintaining fire resilient ecosystems; reducing the threat to local communities from wildfires emanating from the parks or adjacent lands; and recruiting, training, and retaining a professional fire management workforce.
-###-
Last updated: January 25, 2020