News Release
Parks Plan Fall Prescribed Burns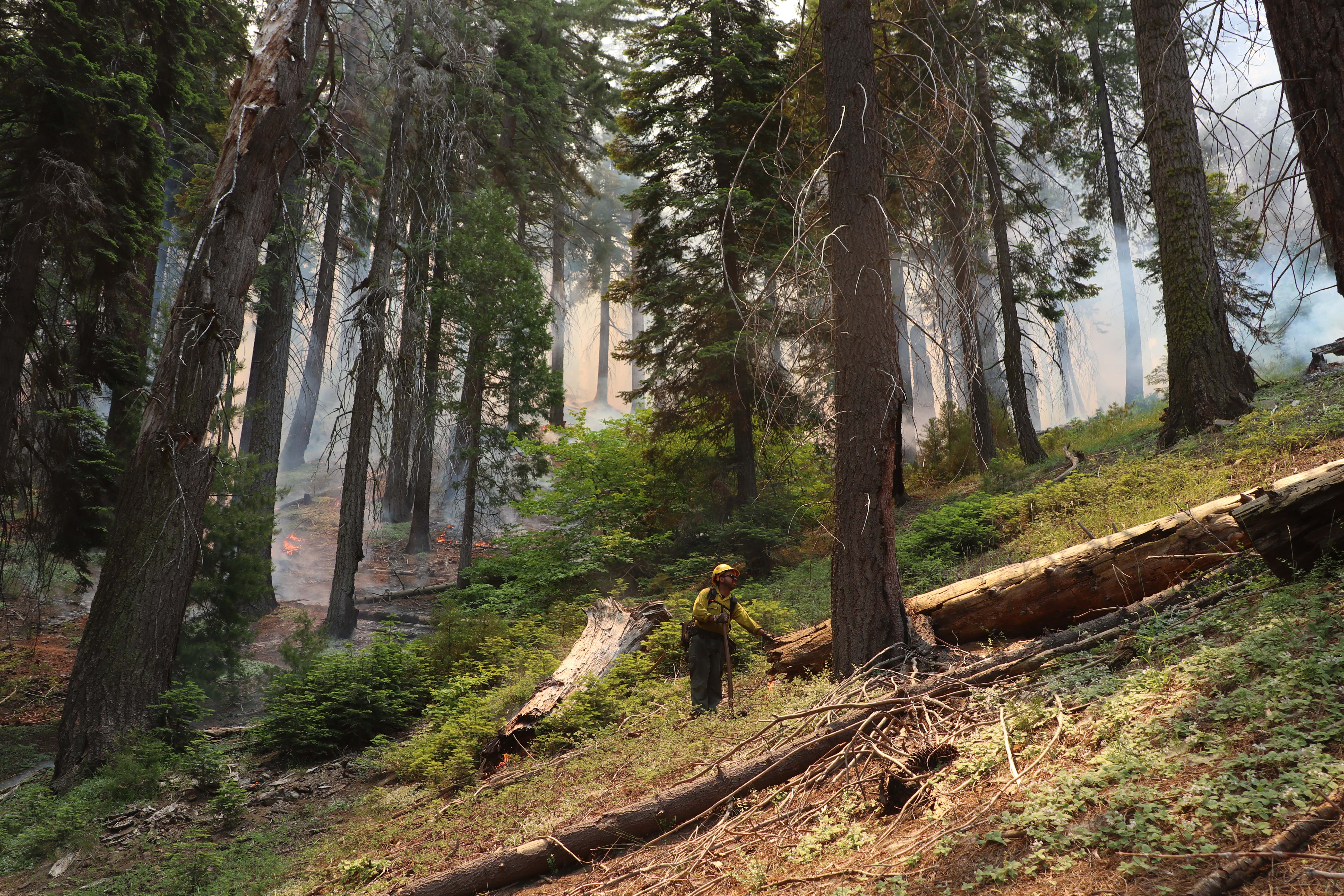 News Release Date:
September 26, 2019
Contact: Fire Information Office, (559) 565-3704
SEQUOIA NATIONAL PARK,
Calif. September 26, 2019 – As cooler temperatures arrive in Sequoia and Kings Canyon National Parks, fire management staff are preparing for fall prescribed burns. The parks plan to complete three projects this fall, including a final segment of the Sherman Prescribed Burn in the Giant Forest area, the Park Ridge Prescribed Burn in the Grant Grove area, and the final segments of the Cedar Central Prescribed Burn in the Cedar Grove area.
The first of these projects is the final segment of the Sherman Prescribed Burn, with ignitions scheduled for three to four consecutive weekdays beginning as early as October 1, with exact dates to be determined by weather. The beginning of ignitions on this project, as well as dates for Park Ridge and Cedar Central, will be announced in subsequent releases. Prescribed burn plans are subject to change, based on weather and other factors.
This 244-acre segment of the Sherman Prescribed Burn is nearly the combined size of the rest of the project, which was treated in July. This final segment is located west of the Generals Highway, approximately two miles north of the Giant Forest Museum. There are no hiking trails within the segment, and no closures are planned.  
"We took advantage of a great opportunity to get prescribed burning done in the Giant Forest area this summer," says Burn Boss Andrew Cremers. "However, we didn't treat this segment at that time, because we wanted to break up and manage our smoke production, so it wasn't all going into the airshed at once, and also be mindful of impacts to visitors' experiences in such a busy area of the park. With the final segment treated, we'll have good buffers of reduced vegetation in place to protect the Giant Forest from destructive wildfires in the future."
The parks have been performing prescribed burns in the Giant Forest area since 1979. By working with the area's historical fire return interval, which is ten to sixteen years, the parks are ensuring a diverse mosaic of fire history, which is key to a healthy ecosystem. Prescribed burns also promote the regeneration of giant sequoias by creating openings in the canopy, clearing the forest floor, and opening the cones, allowing seeds to disperse.
Due to the extremely steep terrain and the absence of trail access to the area, ignitions on this segment will be performed primarily by helicopter, in order to minimize risks to firefighter safety and shorten the overall duration of the project.
On the Generals Highway, single-lane traffic control will be in place adjacent to the project area during ignitions. Moderate smoke impacts are expected in the Giant Forest, General Sherman Tree, and Lodgepole areas. At night, smoke may be discernible in the parks' lower elevations and in Three Rivers, CA. Visitors can learn more about air quality and smoke by visiting
www.airnow.gov
or
www.valleyair.org
.
For more information on this prescribed burn, visit
https://inciweb.nwcg.gov/incident/6245/
-NPS-
Last updated: September 29, 2019