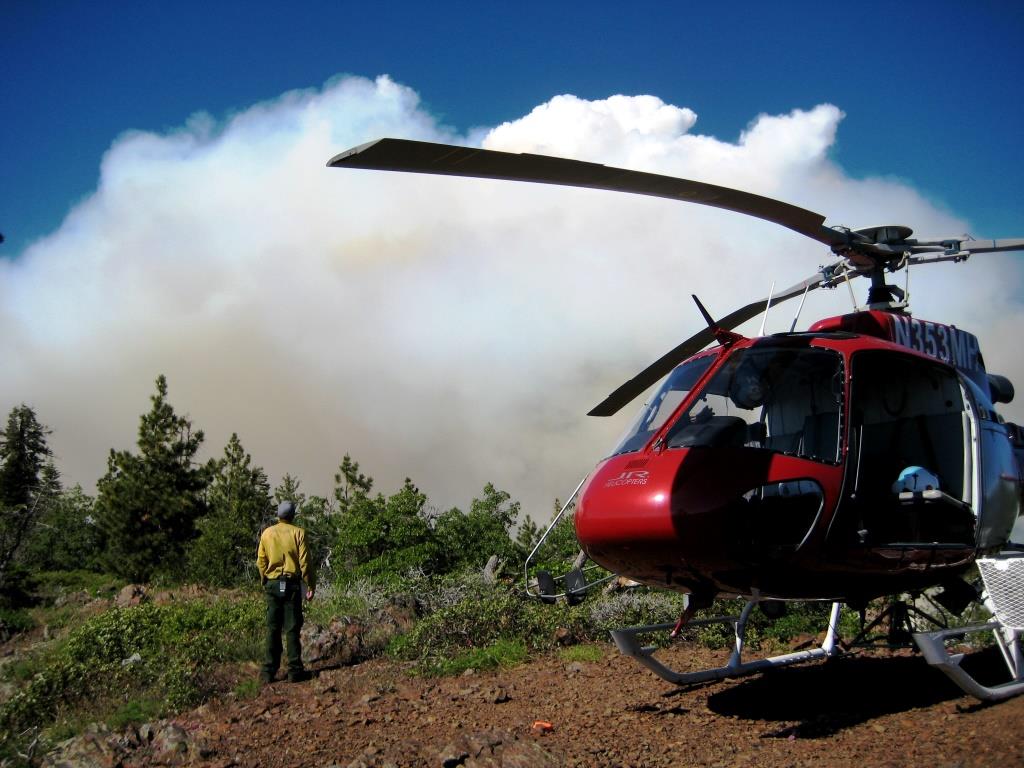 News Release Date:
July 24, 2016
Contact: Rebecca Paterson, 559-565-3129
SEQUOIA AND KINGS CANYON NATIONAL PARKS,Calif. July 24, 2016–Unmanned aircraft systems (UAS), or drones, are on the rise in our nation's airspace. While most drone operators are recreating privately, the Federal Aviation Administration recently passed legislation to simplify the process of getting licensed as a commercial drone operator. Drones are increasingly popular and have many useful applications. So, why aren't visitors allowed to fly dronesin Sequoia and Kings Canyon National Parks?
In 2014, the National Park Service prohibited drone usage within its boundaries. Drones can crash into sensitive sites, disturb vulnerable wildlife, and bother other visitors. Also, more than 90% of Sequoia and Kings Canyon National Parks is managed as wilderness, and flying drones violates multiple tenets of NPS wilderness policy. While Sequoia and Kings Canyon have seen an increase in illegal drone usage, fortunately thus far no incidents have had serious impacts. However, there is another tangible and very dangerous problem with flying drones in the park. That is that drones directly interfere with our aerial operations.
Sequoia and Kings Canyon National Parks have one of the most complex fire management programs in the United States. Our aerial operations team, called "Helitack," flies a helicopter to support fire management activities, whether by performing ignitions during a prescribed burn, dropping water to assist with fire suppression, or getting firefighters to remote areas quickly.
Helitack duties don't end there. Another important reason that the ship takes to the sky on any given day is to respond to medical emergencies in the parks. Helitack can be anywhere within the parks' boundaries inside of 40 minutes, compared to the hours it takes to drive to even fairly accessible locations –if the location is on the road system at all. When minutes count, Helitack is your best hope. 
The ship is involved in innumerable other operations, as well. They resupply the trail crews working deep in the backcountry, no small task in its own right. They have flown new ranger cabins into the mountains, piece by piece, facilitated research on alpine lakes, and even transported endangered frogs to zoological facilities for medical care. "We stay busy every year, because we don't just do fire work. We support the entire park," says Helitack Superintendent Carrie Vernon.
For the men and women on Vernon's crew, the recent proliferation of drones in the airspace is unnerving. Helicopters are designed to be lightweight and maneuverable. They are delicate, especially the rotors. Something as small as a bird –or a small, recreational drone –can be enough to take a helicopter out of the sky.
"It can take out the tail rotor, go through the windshield. It's a flying brick," says crewmember Melissa McKibben. The fact that drones are remotely controlled machines makes them more dangerous, as well. "It doesn't hear noise and move, like an animal would. It's controlled by someone whose senses are far away from it," says crewmember Alex Mackenzie.
The most dangerous part of flying any aircraft is takeoff and landing. Helicopter operators need their wits about them when they're within 400 feet of the ground, which is the approved range for drones. And if you're imagining a beeping, blinking radar screen that will inform the helicopter of any potentially dangerous objects nearby, think again. "Human eyes are our detection system, seeing and avoiding," Vernon said. "Drones come from unexpected directions. They aren't using familiar flight patterns. Some are as big as an airplane, but some are as small as the palm of your hand." A devastating accident can happen quickly.
These risks have led to a no-nonsense policy on airspace management when there are reports of drones in the air: Nobody flies until the drone is back on the ground. This can mean that huge, time-sensitive operations grind to a halt while resources are committed to tracking down a drone operator –for as long as it takes. Reports are popping up all over the country of fire suppression and law enforcement efforts being handicapped by these incidents. To those that consider these measures conservative, Vernon answers, "The drone doesn't have anyone that can be killed on board. All the other aircraft do."
So, before you consider operating your drone in or around the parks, think about the men and women that are in the air doing important jobs –and the people on the ground that may be waiting for their help. "Drone operators need to remember that we always have an impact on each other, whether we want to or not," Vernon says.
-NPS-
About Sequoia and Kings Canyon National Parks' Fire Management Program
For over forty years, our mission has been to use the full range of options and strategies available to manage fire in the parks. This includes protecting park resources, employees, and the public from unwanted fire;building and maintaining fire resilient ecosystems;reducing the threat to local communities from wildfires emanating from the parks or adjacent lands;and recruiting, training, and retaining a professional fire management workforce.