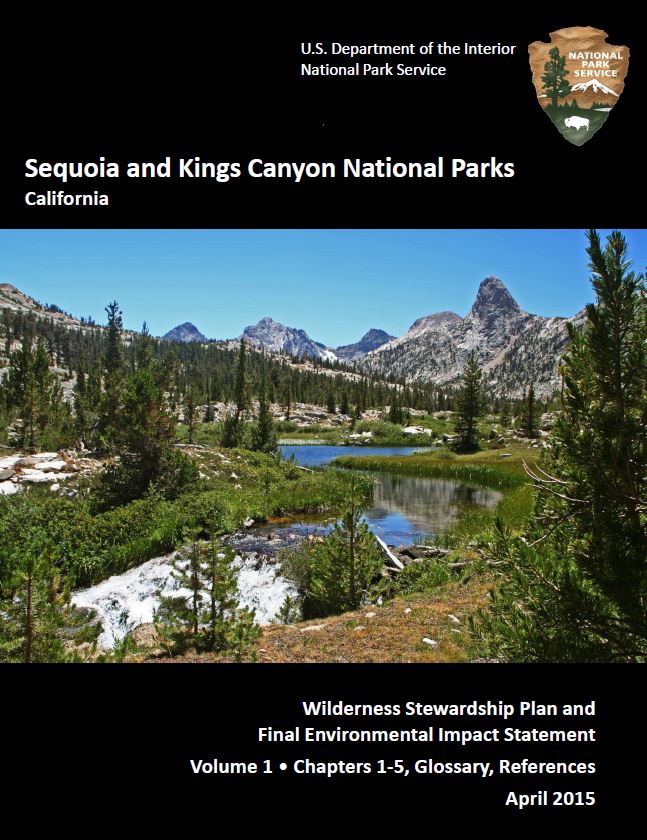 News Release Date:
April 1, 2015
Contact: Dana Dierkes, 559-565-3131
SEQUOIA AND KINGS CANYON NATIONAL PARKS, CALIFORNIA—The Environmental Protection Agency's notice of availability for the Wilderness Stewardship Plan / Final Environmental Impact Statement
(WSP/FEIS) for Sequoia and Kings Canyon National Parks will be published in the Federal Register on Friday, April 3, 2015. The National Park Service (NPS) will issue a Record of Decision 30 days or more after the Federal Register notice of the WSP/FEIS.

The WSP/FEIS and additional information is available on the NPS Planning, Environment and Public Comment (PEPC) website at https://parkplanning.nps.gov/sekiwild or by calling Nancy Hendricks, environmental protection specialist, at (559) 565-3102. The document is available on CD, upon request.
(In addition, printed and CD versions of the WSP/FEIS will be sent out during the week of April 6 to people who previously requested copies.)

After April 10, 2015, printed versions of the document may be viewed at the Foothills Visitor Center (located
in Sequoia National Park), Giant Forest Museum (Sequoia National Park), Kings Canyon Visitor Center
(Kings Canyon National Park), and at the following area libraries: 
- Clovis Regional Library
- Fresno County Libraries: Bear Mountain Branch; Central Branch; Fowler Branch; Kingsburg Branch;
Orange Cove Branch; Parlier Branch; Reedley Branch; Sanger Branch; Selma Branch; Sunnyside Branch 
- Kern County Libraries: Bakersfield –Beale Memorial Library
- Inyo County Libraries: Big Pine Branch; Lone Pine Branch; Bishop Branch
- Tulare County Libraries: Dinuba Branch; Exeter Branch; Lindsay Branch; Three Rivers Branch;
Visalia Branch; Porterville Public Library
- Merced County Libraries: Merced Library

The NPS will use the framework established by the WSP/FEIS to manage the parks' wilderness to preserve wilderness character, provide opportunities for and encourage public use and enjoyment of the wilderness, and improve conditions in areas where there may be unacceptable levels of impacts on wilderness character. The implementation of changes from current wilderness practices and restrictions called for in the WSP/FEIS will be phased in over the next few years. NOTE: The public will not be affected by changes to current wilderness restrictions or regulations in the summer of 2015.  

Background Information:

The Draft WSP/EIS was available for a 60-day public review period from June 27, 2014 to August 25, 2014. The NPS received 251 public comment letters from individuals, interest groups, businesses, and government agencies. In response to public comments, agency feedback, and new technical information, the NPS modified the preferred alternative (alternative 2) between the release of the draft and final plan.

The parks' total designated wilderness is 808,078 acres —approximately 93.3% of the total park acreage of 865,964. In addition, because the southern end of the Hockett Plateau (approximately 29,500 acres) remains proposed wilderness, it is managed as wilderness, according to law (PL 111-11) and NPS policy. The parks also contain several designated potential wilderness additions, including the area around the Pear Lake
Ski Hut and Bearpaw Meadow High Sierra Camp. Altogether, designated and proposed wilderness areas comprise nearly 97% of the total acreage of Sequoia and Kings Canyon National Parks.



******************************************************************************************

SEQUOIA AND KINGS CANYON NATIONAL PARKS

Sequoia and Kings Canyon National Parks, which lie side-by-side in the southern Sierra Nevada in central California, serve as a prime example of nature's size, beauty, and diversity. With the world's largest trees (by volume), grand mountains, rugged foothills, deep canyons, vast caverns, and the highest point in the lower 48 states, it is a place that attracts over 1.5 million visitors a year from across the U.S. and the world. Info: www.nps.gov/seki or 559-565-3341.