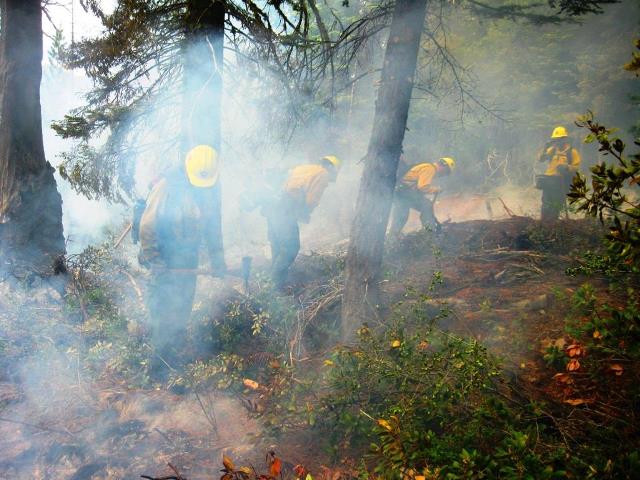 News Release Date:
July 5, 2015
Contact: Mike Theune, 559-565-3703
SEQUOIA AND KINGS CANYON NATIONAL PARKS, Calif. July 5, 2015 – Since lightning storms came through the parks starting July 1, the parks have eight new lightning-caused fires. Afternoon monsoonal weather has caused additional lightning strikes with new fires being discovered everyday by park firefighters and staff. Lightning-caused fires can take days or weeks to detect because vegetation has to dry out enough to create smoke or visible flames after the storm passes over.
Most of these fires are small; single tree strikes that amount to less than a tenth of an acre. Furthermore, four of these fires are in the wilderness and are being monitored via air due to location, sparse fuels, and low growth potential. 
One of the fires, the East Fork Fire, is approximately three-tenths of an acre in-between the south and east fork of Sugarloaf Creek. Spread potential is moderate and the fire is burning adjacent to the 2003 Williams resource benefit fire. Additionally, the 1985 Sugarloaf fire burn scar is also to the south of the fire. Fire personnel will continue to monitor via air before inserting any crews to lower the risk to personnel. 
Lastly, two of the fires were suppressed by park firefighters due to their location and proximity to the front-county, both within the Garfield Grove of giant sequoias. The Garfield Fire has been controlled at 0.4 acres by firefighters on scene and is now being monitored via air. The second, the Dennison Fire, has a crew currently on scene as the fire is burning in a large branch of a giant sequoia. 
Update on Big Five Fire: While not associated with most recent storms, this lightning-caused fire has a perimeter of 84 acres. The fire received over an inch of rain from these most recent storms thus only one acre of it is now active. The parks are still managing the fire for resource benefit as there are no threats to people, trails, or other park infrastructure.
As with all fires, staff and visitor safety is of paramount importance. Each fire, regardless of size, is assessed for the appropriate course of action. At this time there are no road or trail closures and the park remains open. Smoke is staying local over the fires and has not been observed traveling to any smoke sensitive areas.
 -NPS- 
About Sequoia and Kings Canyon National Parks Fire Management Program 
For over forty years, our mission has been to use the full range of options and strategies available to manage fire in the parks. This includes protecting park resources, employees, and the public from unwanted fire; building and maintaining fire resilient ecosystems; reducing the threat to local communities from wildfires emanating from the parks or adjacent lands; and recruiting, training, and retaining a professional fire management workforce. -
###-