News Release
KNP Complex Fire Declared 100% Contained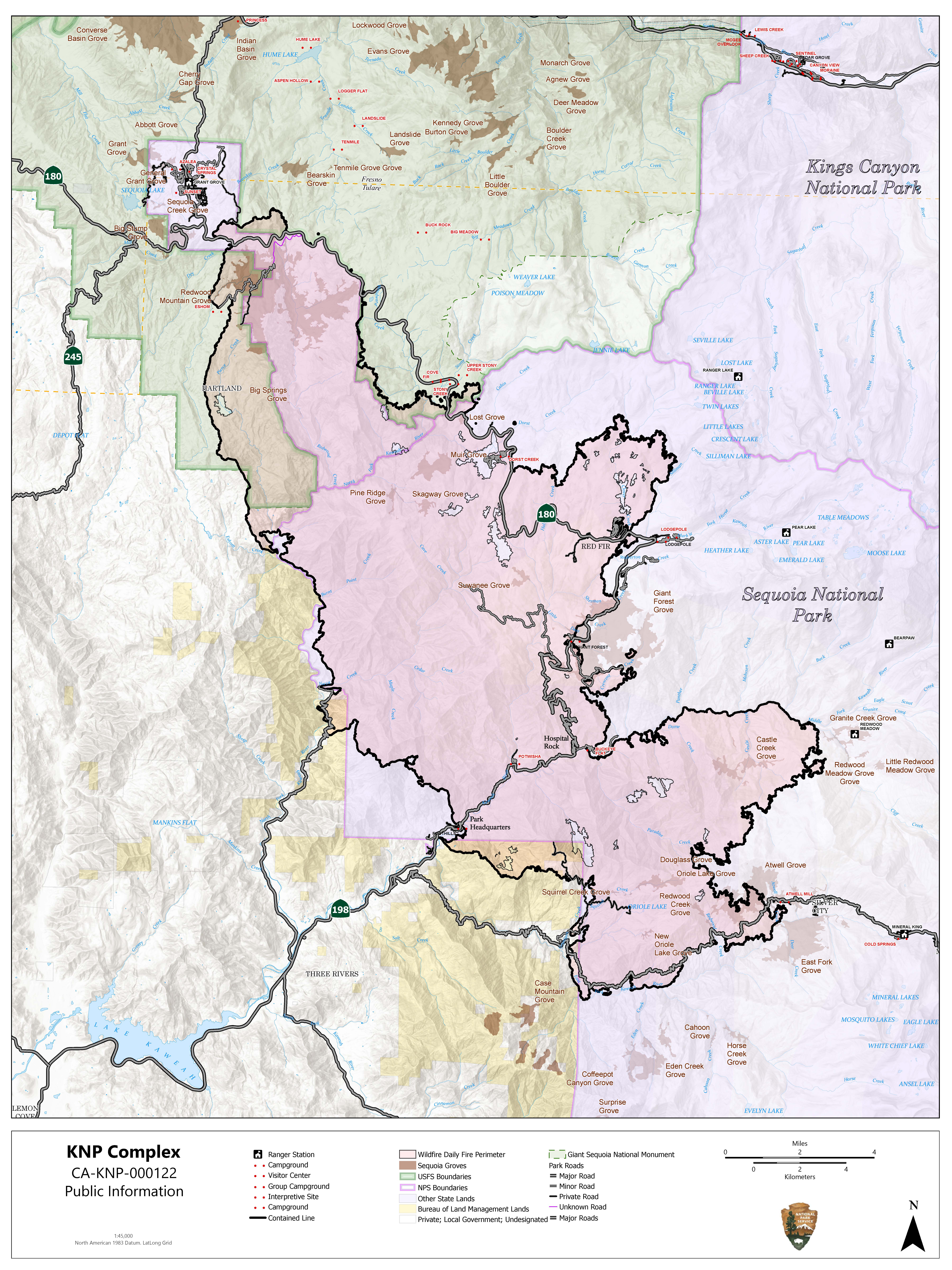 News Release Date:
December 17, 2021
Contact: Rebecca Paterson, 559 702 3400
SEQUOIA AND KINGS CANYON NATIONAL PARKS, Calif. December 17, 2021 – Fire management staff at Sequoia and Kings Canyon National Parks declared the KNP Complex Fire 100% contained on the afternoon of December 16, 2021. The KNP Complex is currently measured at 88,307 acres, most of which fall within Sequoia and Kings Canyon National Parks. While the fire has not grown in recent weeks, it has continued to show activity in remote areas. Significant precipitation events across the Sierra Nevada have prompted fire managers to declare the fire fully contained at this time.  
The KNP Complex was ignited by a large lightning event on the night of September 9, 2021. Despite immediate and aggressive suppression efforts, the two fires that initially comprised the complex merged in the coming days and burned rapidly through a large area of Sequoia National Park, and into Kings Canyon National Park, Sequoia National Forest, Bureau of Land Management lands, and lands under tribal, state, county, and private jurisdiction. This fire evacuated many communities, closed public lands, and ultimately killed approximately 3-5% of the world's population of mature giant sequoias.  
Total containment means that the fire's perimeter is considered secure, and no further growth is expected. This differs from the fire being declared "out." Fire can become established in heavy fuels, such as large, downed trees, and may smolder there through multiple heavy snow and rain events, or even all winter, and become active again after the area dries out. Therefore, it may be a matter of months or longer before the KNP Complex is officially declared out.  
"We hope that total containment on the KNP Complex is a comfort not only to local communities, but to people everywhere who care about the parks," said Leif Mathiesen, Assistant Fire Management Officer for Sequoia and Kings Canyon National Parks. "While the onset of winter weather was the push we needed to reach full containment, it's thanks to the incredible work of literally thousands of firefighting personnel that we were able to protect and save what we did. We're very grateful to a lot of people."  
Significant hazards from the KNP Complex remain in many areas of the parks, some of which will not be fully assessed or mitigated until at least the spring of 2022. National Park Service employees are working hard to reopen areas to public access as it is possible and responsible to do so. For regularly updated information on what areas and services are accessible, visit 
go.nps.gov/sekiconditions
.  
Last updated: December 17, 2021