News Release
Ignitions Complete for Tharps-Hazelwood Prescribed Burn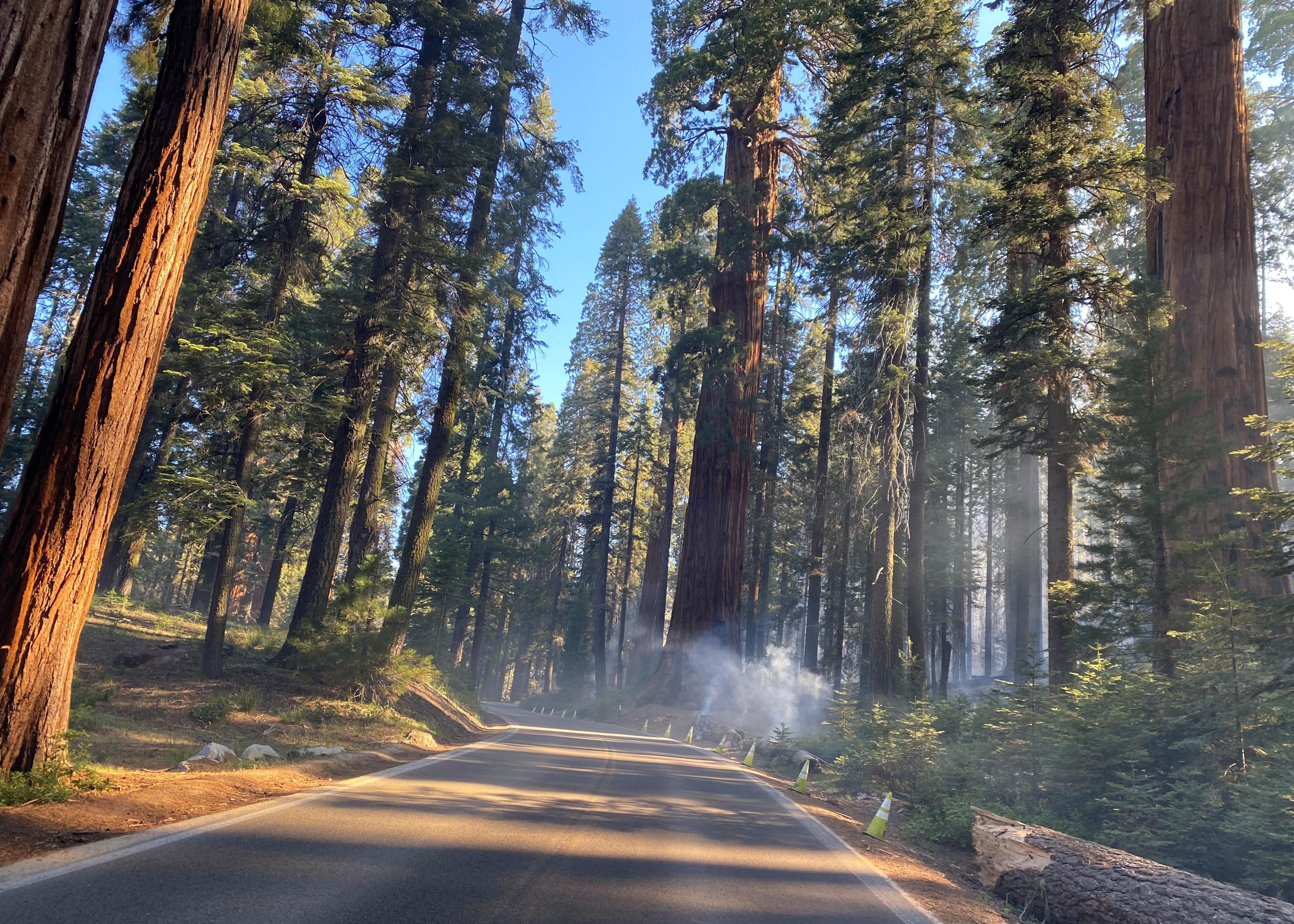 News Release Date:
June 17, 2022
Contact: Fire Information Office, 559-565-3704
SEQUOIA NATIONAL PARK,
Calif. June 17, 2022 – Fire staff completed ignitions on the last segment of the Tharps-Hazelwood Prescribed Burn unit last evening, for a total of 752-acres treated since Thursday, June 9, 2022. With ignitions complete, firefighters will continue to patrol the area as vegetation inside the unit burns down. Access to the General Sherman Tree remains open from the Sherman Tree parking lots.
The Tharps-Hazelwood Prescribed Burn is located in the heart of the Giant Forest and roughly half of a mile northeast of the Giant Forest Museum.
Visitors driving or hiking in the area between Lodgepole and Giant Forest should expect to see smoke and/or areas of active flame, as the area may continue to smolder for weeks. The smoke density will lessen as fuels within the prescribed burn area are consumed and ultimately self-extinguish. This is normal.
This project was originally planned for last spring but was postponed due to site conditions being too dry at the time. "I am relieved we were able to complete this critical prescribed burn," said Superintendent Clay Jordan. "Last year's KNP Complex Fire demonstrated how important low-intensity recent fire history is in protecting giant sequoia groves from catastrophic wildfire."
Trails closed during this period will be clearly flagged / marked. For your safety, visitors are asked to exercise caution, stay on trails, and observe signs and directions from park staff. Firefighters and park management are continually assessing the area to determine when fire activity will be sufficiently reduced to allow public access to the remaining closed trails.
Visitors will not be able to hike between the General Sherman Tree and the Giant Forest Museum at this time. Additionally, hiking across the Giant Forest to Moro Rock and Crescent Meadow from the General Sherman Tree will not be possible until a later date. Please use the free Sequoia Shuttle between these points. More info can be found at
https://www.nps.gov/seki/planyourvisit/parktransit.htm
with schedules and route information.
Sequoia and Kings Canyon National Parks work with the San Joaquin Valley Air Pollution Control District to coordinate and regulate smoke contributions to the airshed. Visitors can learn more about air quality and smoke by visiting
https://fire.airnow.gov
or
www.valleyair.org
.
For more information on this prescribed burn such as the map, visit
https://inciweb.nwcg.gov/incident/8130/
-NPS-
About Sequoia and Kings Canyon National Parks' Fire Management Program
For over fifty years, our mission has been to use the full range of options and strategies available to manage fire in the parks. This includes protecting park resources, employees, and the public from unwanted fire; building and maintaining fire resilient ecosystems; reducing the threat to local communities from wildfires emanating from the parks or adjacent lands; and recruiting, training, and retaining a professional fire management workforce.
###-
Last updated: June 17, 2022