News Release
Ignitions Begun on Final Segment of the Sherman Prescribed Burn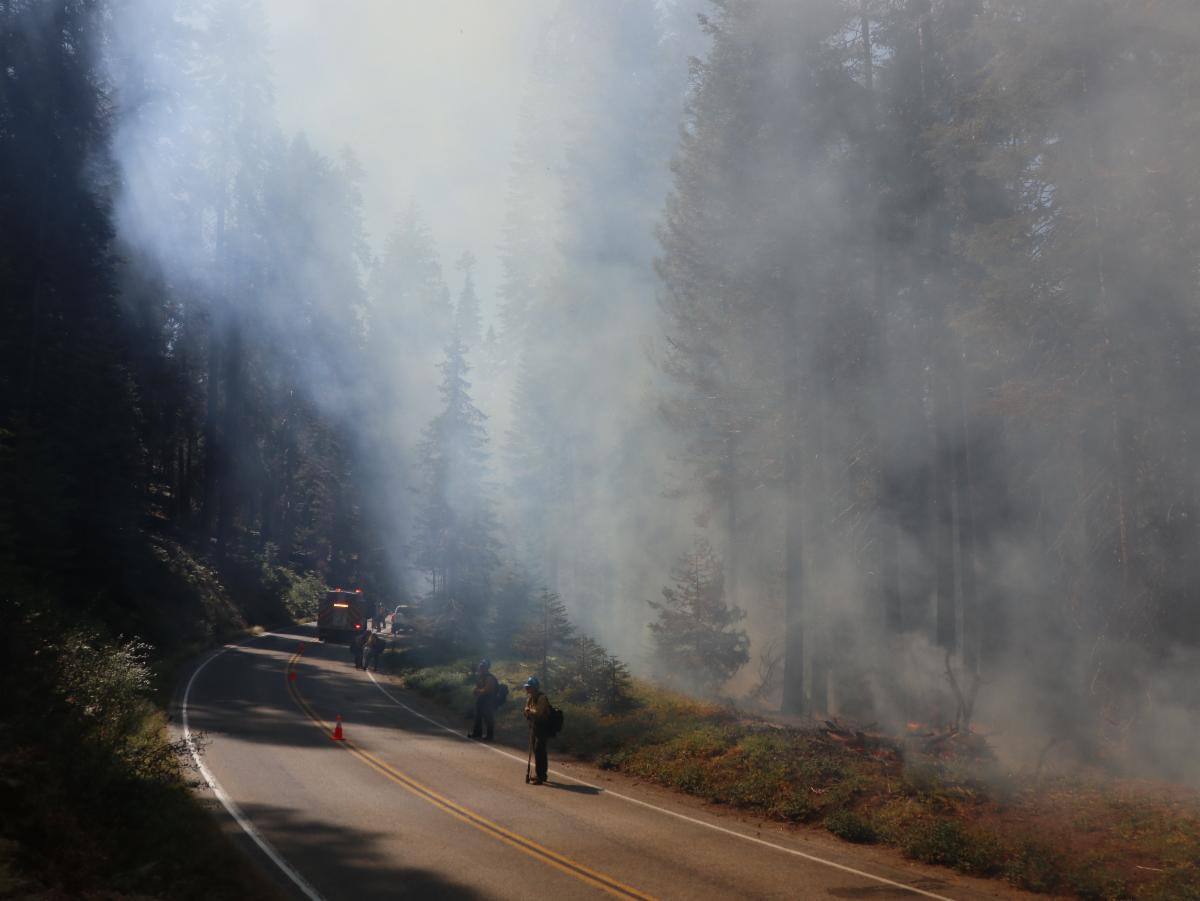 News Release Date:
October 2, 2019
Contact: Fire Information Office, (559) 565 3704
SEQUOIA NATIONAL PARK,
Calif. October 2, 2019 – Following a successful test burn this morning and a determination by the burn boss and fire management staff, ignitions have begun on the final segment of the Sherman Prescribed Burn in Sequoia National Park. Three to four days of ignitions are planned.
This 244-acre segment will complete the Sherman Prescribed Burn, of which an additional 245 acres were treated in July 2019. The project is located in the Giant Forest area, approximately two miles northeast of the Giant Forest Museum.  There are no trail closures associated with the prescribed burn.
"Fire plays an important ecological role in the Sierra Nevada. Based on studies of tree ring data, the historical fire return interval in this area is approximately three to ten years," says Tony Caprio, the parks' fire ecologist. "Prescribed burning helps to maintain healthy levels of vegetation density, which promotes watershed health and bolsters the forest's resilience to drought."
Single-lane traffic control is in place on the Generals Highway where it borders the prescribed burn area. Moderate smoke impacts should be expected in the Giant Forest and Lodgepole, as well as in Potwisha Campground and Three Rivers, CA at night. Smoke impacts will lessen as fuels within the prescribed burn area are consumed and ultimately self-extinguish.
Sequoia and Kings Canyon National Parks work with the San Joaquin Air Pollution Control District to coordinate and regulate smoke contributions to the airshed. For more information about air quality in Sequoia and Kings Canyon National Parks,
www.airnow.gov
or regional information about air quality, visit
https://www.valleyair.org
For updates about the Sherman Prescribed Burn, visit
https://inciweb.nwcg.gov/incident/6245/
.
-NPS-
About Sequoia and Kings Canyon National Parks' Fire Management Program
For over fifty years, our mission has been to use the full range of options and strategies available to manage fire in the parks. This includes protecting park resources, employees, and the public from unwanted fire; building and maintaining fire resilient ecosystems; reducing the threat to local communities from wildfires emanating from the parks or adjacent lands; and recruiting, training, and retaining a professional fire management workforce.
Last updated: October 6, 2019