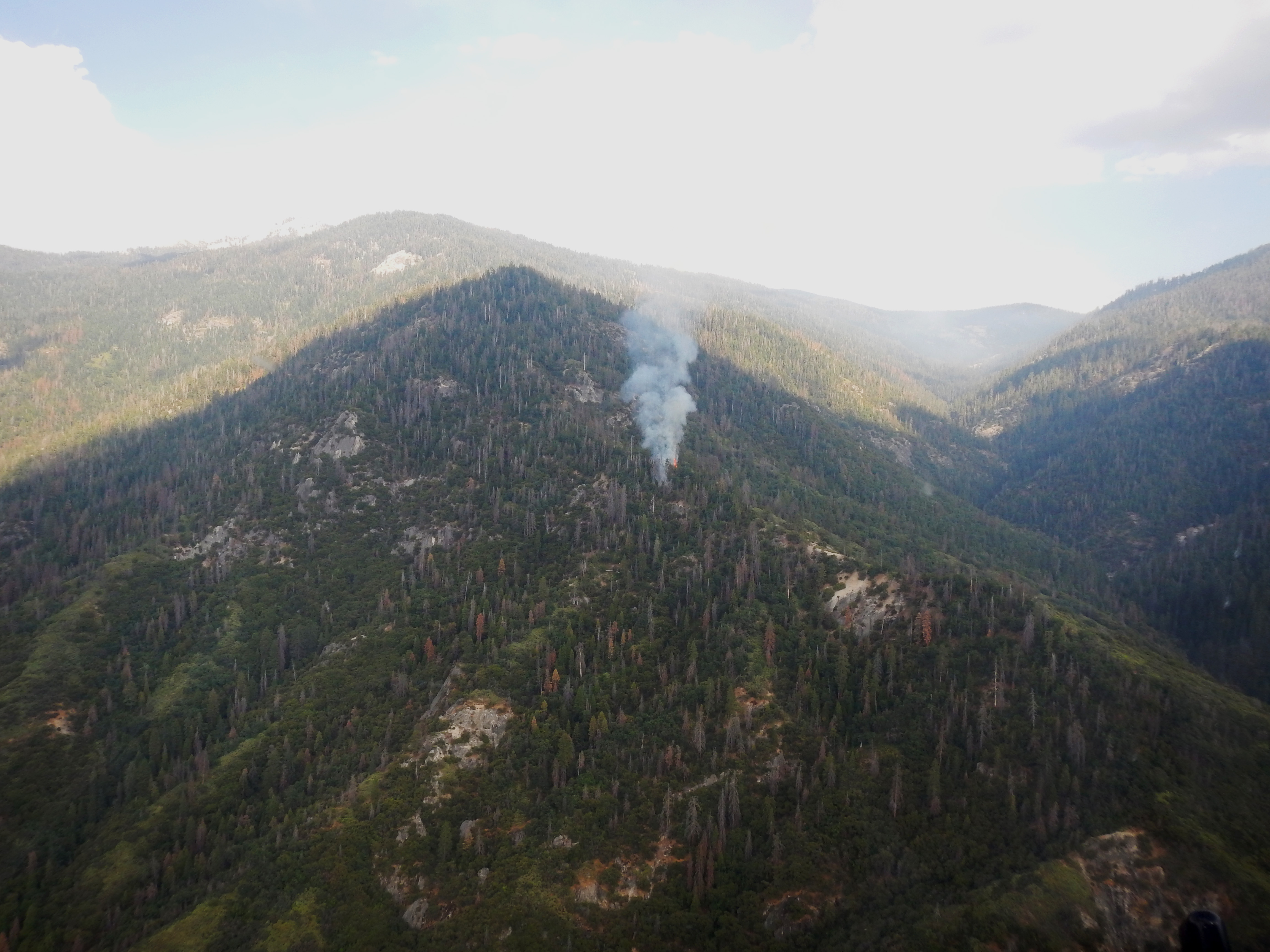 News Release Date:
July 20, 2018
Contact: Fire Information Office, 559-565-3704
SEQUOIA NATIONAL PARK, Calif. July 20, 2018 – The Horse Creek Fire is now six acres. This lightning-caused fire is located near the top of the ridge between the east fork of the Kaweah River and Horse Creek, west of the Hockett Trail in Sequoia National Park. The fire is highly visible on the south side of the Mineral King Road, and is burning in designated wilderness.
Due to its location and spread potential, this fire is receiving a full suppression response. It is located in an area with no recent fire history, steep, rugged terrain, high tree mortality, and no trail access, which makes it challenging to insert firefighters on the ground. The parks have brought in additional ground and air resources, including a type 2 helicopter and a hotshot crew, to aid suppression efforts. Helicopters have been performing water drops on the fire perimeter since the fire's discovery yesterday afternoon, and fire management staff are evaluating strategies for placing crews on the ground.
Trail closures have been issued related to this fire. At this time, the Atwell-Hockett Trail and the Tar Gap Trail are closed. The park is establishing contact with hikers, trail crews, and wilderness staff in the closed area. The Mineral King Road remains open. Motorists should be extra cautious as they are likely to encounter firefighters and firefighting equipment on or near the road. Smoke impacts are possible in the Mineral King area.
There are two additional small, lightning-caused fires in the Mineral King area. The Fowler Fire was discovered on July 12th, and is located in the interior of the Mosquito Prescribed Burn of 2014. The Monarch Fire, discovered earlier today, is located near the Timber Gap Trail. Both fires exhibit minimal fire activity and low spread potential, and will be monitored by air.
Further updates will be issued as information becomes available. For more information, visit
https://inciweb.nwcg.gov/incident/5984/
.