News Release
East Creek Fire in Kings Canyon National Park Update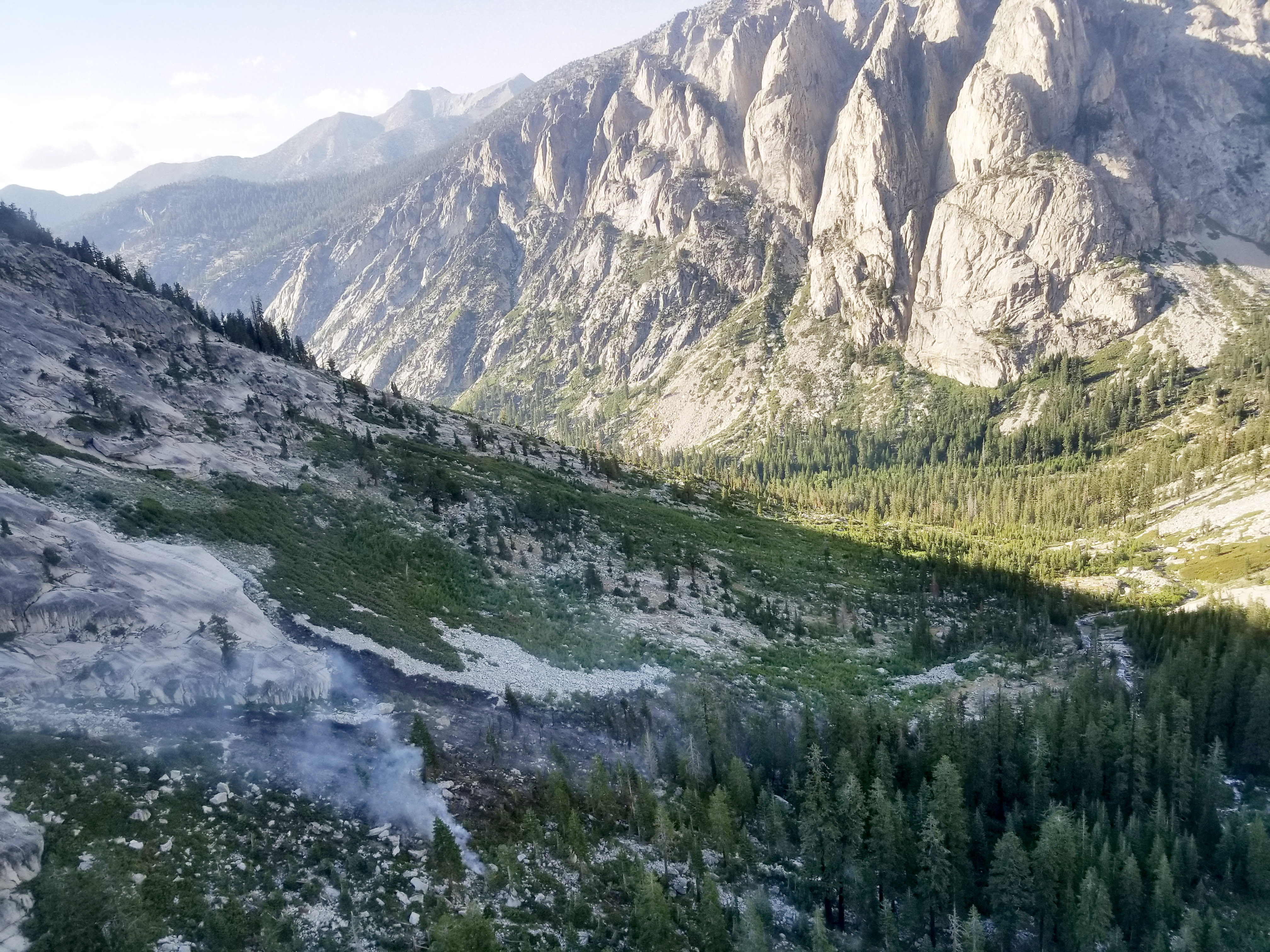 News Release Date:
July 9, 2018
Contact: Mike Theune, Fire Information Officer, 559-565-3703
Contact: Rebecca Paterson,  Fire Information Officer, 559-565-3129
KINGS CANYON NATIONAL PARK,
Calif. July 9, 2018 – The East Creek Fire has shown a significant reduction in smoke and fire activity. There are still no trail closures related to this fire. The total acreage of the fire has been reduced from 26 acres to six acres.
During earlier fire activity in this very steep and rugged terrain, it wasn't safe for firefighters to attempt a more precise perimeter measurement of the fire's edge. Fire was moving through a dense red fir stand with no recorded fire history, adjacent to a swift cold creek, with alternative paths only being smoothly polished rock.  
"Firefighter and public safety is the first priority on all fires," said Incident Commander Paul Stevko. "Operational tactics are selected to minimize risk to firefighters. If this or any wilderness fire becomes a public safety hazard, firefighters are prepared to escalate their response."
By utilizing minimum impact suppression tactics (MIST) firefighters are containing the fire using natural barriers like rocky or wet areas, or preexisting manmade barriers like trails. These type of operations will disturb the wilderness ecosystem as little as possible.
The fire is burning two-thirds of a mile south of the Bubbs Creek Trail and west of the East Creek Trail, located less than ten miles east of Roads End Permit Station in the Cedar Grove Area of Kings Canyon National Park
With high-elevation weather changes forecast for mid-week, including increased thunderstorm risk, firefighters will be flown out of the area. Future planned actions will be to either patrol by park helicopter or with on the ground patrols, whichever is the safer of the two options.
For current information, additional updates, and photos on the East Creek Fire visit
https://inciweb.nwcg.gov/incident/5904/
-NPS-
Last updated: July 9, 2018