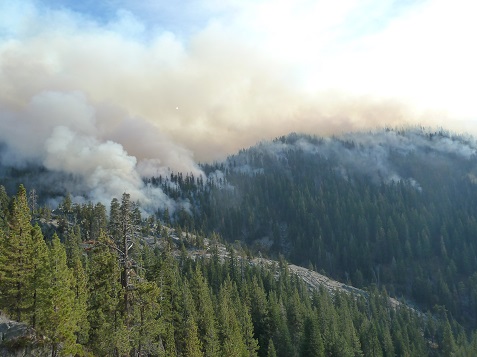 News Release Date:
October 22, 2014
Contact: Alexis Brooks, 559-565-3703
As of 5:00 pm, October 22, ignitions are complete on 700 acres of the Mosquito Prescribed Burn in Sequoia National Park. Ignitions will continue on the remaining 785 acres throughout the next several days.
The burn unit is located in the Mineral King area, along the East Fork of the Kaweah River.
While aerial operations were expected to be the primary source of ignitions on the burn, ground crews have been instrumental in firing operations to achieve the desired fire effects. Both types of ignitions will be used throughout the remainder of the burn. Engines are also being staged to provide holding operations along the fire's edge.
Smoke can still be expected in the Mineral King Valley, as well as potentially in the Three Rivers area.
Area closures continue to be minimal. The Tar Gap Trail will remain closed, due to its proximity to the burn. The Mosquito Lake Trail is also closed for the safety of visitors.
Would you like more information about fire? Go to www.nps.gov/seki and click on Fire in the Parks under Quicklinks.