Grant Grove Engine 42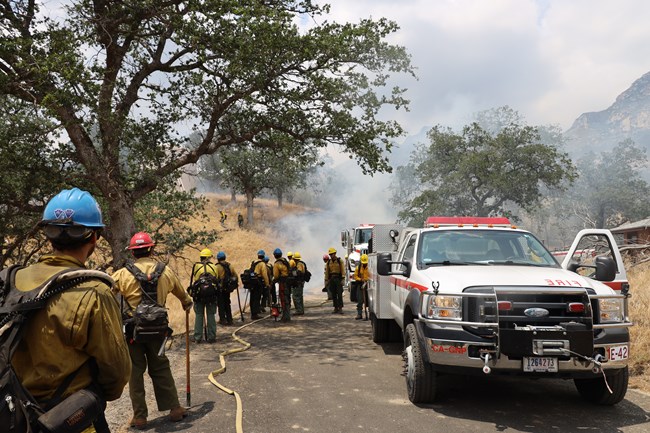 Engine 42 is the primary wildland fire engine for Kings Canyon National Park. The crew lives and works out of Grant Grove, in the shade of giant sequoia trees. Engine 42 supports emergency response and land management efforts in the national parks, the state of California, and the United States of America, while embodying the wildland fire leadership values of duty, respect, and integrity.

The type-6 crew participates in wildland fire initial attack response, extended attack, severity coverage, prescribed fire, and emergency training. Like its counterpart, Sequoia National Park Engine 72, Engine 42 is utilized for all-hazard emergencies such as search-and-rescue, first aid, and natural disasters. The crew and engine respond to incidents both inside and outside of park boundaries, and may be sent on assignments for weeks at a time.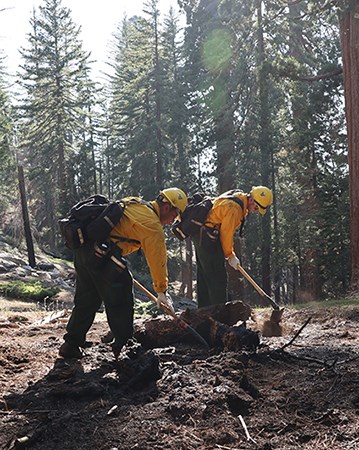 When not engaged in wildland fire activities, the crew works with other divisions within the parks, helping to educate the public, assisting roads and maintenance, and training alongside law enforcement for search and rescue operations. This develops camaraderie, part of what makes living and working in Grant Grove special.

The crew usually consists of an engine captain, an engine operator, and four seasonal personnel. These firefighters are trained in fire suppression techniques as well as fire-inclusive land management. Kings Canyon National Park was the birthplace of modern prescribed burning in the western United States, and Engine 42 carries on that legacy by playing an active role in the parks' prescribed burning operations.

The work environment includes extreme weather conditions, hiking, public interaction, physical training, and working long hours. It also includes partnering with state, county, and local organizations on hazard fuel mitigations and defensible space.
For more information about Kings Canyon National Park Engine 42, please
contact us
via e-mail.
ENGINE STATISTICS
NWCG Type 6
BME 126 Light Engine
Chassis: Ford Motor Company 2007 F550 4x4
Motor: International 6.0 Diesel Power stroke
Transmission: New Process Gear Model 271F 5 Speed
Main Pump: Darley
Main Pump Rated Flow: 50 GPM @ 300 PSI
Tank Capacity: 280 Gallons
Last updated: November 25, 2023