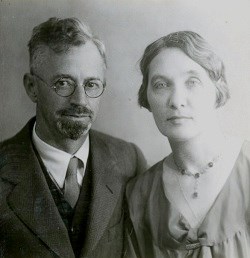 The Golden Twenties rejuvenated the spirit of the United States - it was an era marked by economic prosperity, the rise of commercialism, and the emergence of jazz and social dancing. Perhaps the most significant of all were the advancements made towards women's rights. Women's suffrage, the proposal of the Equal Rights Amendment, fashion, and large-scale entrance into the workforce brought about a newly found liberation for women.
Susan Priscilla Thew embodied this newly-found liberation and her enthusiasm and energy left a lasting impact on Sequoia and Kings Canyon National Parks. With little experience but great motivation, 40-year-old Susan Thew left Giant Forest in August of 1923 to explore the rugged terrain of the Sierra. Thew hoped to capture a still untouched landscape in images and words that would make clear the need for its preservation. Little did Thew know that her work would succeed in nearly tripling the park's acreage - making her one of the most prominent female figures in the history of these parks.
Susan had originally come to California to escape the harsh Ohio winters with her father, Richard Thew, a wealthy industrialist and inventor. In the summer of 1918, having determined to stay year-round, she drove the rough dirt road to Giant Forest and encountered the beauty and serenity of the sequoias for the first time. Although she only spent a limited amount of time within the park, she was instantly captivated.
She soon acquainted herself with the superintendent of the park, Colonel John R. White, and learned of the various efforts to create a greater Sequoia National Park. It was then that the idea of promoting for park expansion began to take hold of Susan Thew and she began her travels into the high country east of Sequoia - the High Sierra.