The Impact of Science
In the 1920s, Emilio Meinecke put considerable effort into understanding the human impact on the big trees. Generally speaking, however, the application of scientific research to Giant Forest management increased sluggishly during the mid-1900s. During these years, landscape architects directed most land- use planning. The science of ecology was in its infancy. While modern landscape architecture is grounded in the science of ecology, the early application of landscape architecture was more geared toward swift, visually appealing results that were appropriate to parks managed for the enjoyment of people. As the 1900s progressed, natural sciences gained importance and played an increasingly significant role in park policy decisions. This was to have a profound effect on park management and the Giant Forest.
In the decade beginning 1954, the National Park Service effected a dramatic change in land management policy, especially regarding giant sequoia groves. These changes were directly influenced by the results of three scientific studies. In 1954, the Yosemite Report, commissioned by the Yosemite superintendent, concluded that human impacts were harming the roots of sequoias in the Mariposa and Tuolumne groves. The report recommended removal of development.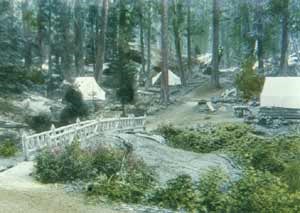 In 1962 and 1965 Richard Hartesveldt submitted a pair of influential reports to the National Park Service. In these reports, Hartesveldt concluded that humans were adversely affecting the sequoias of the Mariposa Grove in Yosemite National Park and the Giant Forest Grove in Sequoia National Park, but in ways not previously suspected. Hartesveldt found that altered hydrology in the Mariposa Grove and increasingly dense competing vegetation in the absence of natural fire in both groves were causing the most severe impacts to sequoias. Impacts of development on sequoias were most damaging where major roots had been cut for road construction. Although Hartesveldt did not find other results of development - covering of roots by asphalt, soil compaction, or soil erosion - to cause profound impacts to sequoia survival or growth, he suggested that their probable effects on future sequoia health warranted action by the National Park Service.
In 1963 came the Leopold Report, which had an enormous influence on science in the parks, from both research and management standpoints. The Leopold Report was the product of an advisory panel headed by Dr. Starker Leopold, appointed by the Secretary of the Interior. In essence, the report called for maintenance or restoration of natural systems to the greatest extent possible. This had direct implications for the Giant Forest, which was specifically mentioned in the report. The Secretary of the Interior issued an order that the report's recommendations be followed. This gave tremendous backing to the movement to restore the Giant Forest. Additionally, the report resulted in the establishment or expansion of numerous park research programs.
Last updated: March 1, 2015