Basic Information
Welcome to the tropics! Forecast is for sun! But be sure to cover up, wear a hat, and use reef-safe sunscreen to avoid sunburn. Weather conditions can change quickly. Showers can quickly pop up, so be sure to have an umbrella handy. And beware of hazardous surf conditions and crosscurrents, and do not swim alone.
Average high temperatures range between 84°Fahrenheit (F) and 89°F, and lows between 73°F and 80°F (23°C to 27°C). Tradewinds (Easterlies) blow east to west. The coolest months are from December to March, and are accompanied by strong winds from the north (called Christmas Winds). Low temperatures in the winter rarely dip below 73°F (23°C). Between April and June there is typically little rainfall. Hurricane season is officially June 1 through November 30, with peak months for storms between August and October. These are also the hottest months, with average high temperatures in the upper 80s and low 90s (29°C to 32°C).
The strong Easterlies can sometimes bring clouds of African dust from the Sahara; millions of tons of dust can be transported each year, affecting air quality, and potentially affecting marine life, including coral reefs.
Click
here
for the current weather conditions on St. Croix from the National Weather Service.
A Living Museum Where Nature and History Blend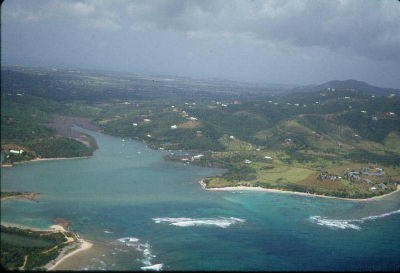 Salt River Bay is a living museum on St. Croix, U.S. Virgin Islands. Prehistoric and colonial-era archeological sites and ruins are found in a dynamic, typical ecosystem that supports threatened and endangered species. In 1992, Congress created Salt River Bay National Historic Park and Ecological Preserve as part of the National Park System-to preserve, protect, and tell the story of its rich contributions to the nation's natural and cultural heritage. The 1,015-arce park is jointly managed by the national Park service and Government of the United States Virgin Islands.
The area's blend of sea and land holds some the largest remaining mangrove forests in the Virgin Islands, as well as coral reefs and a submarine canyon. Salt River's Bay Natural history, its vitally important ecosystem of the mangroves, estuary, coral reefs, and submarine canyon, is told on the other side of this brochure. This setting has witnessed thousands of years of human endeavor. Every major period of human habitation in the Virgin Islands is represented: several South American Indian cultures the 1493 encounter with Columbus, Spanish extermination of the Kalinago (Caribs), attempts at colonization by a succession of European nations, and enslaved West Africans and their descendants. More than a dozen major archeological investigations since 1980, together with historical research, reveal this remarkable story. Few places engage the imagination so completely, drawing the visitors into the spirit of the place and its beauty and sanctity.
You can help ensure that this park and its stories will always be here to inspire people about our common heritage.
For more information download the Park
brochure.
Last updated: June 8, 2017