Virtual Tour Start

VISITOR CENTER
Our Visitor Center offers a 20-minute orientation film, a Revolutionary War timeline display, a fiber-optic light map showing troop movements on the battlefield, and artifact displays. We also have a book and gift shop, operated by our cooperating agency, Eastern National.
The Visitor Center boasts a fantastic scenic overlook of the battlefield. Visitors wanting to picnic while enjoying a natural and historic landscape can use the picnic tables and covered patio behind the building.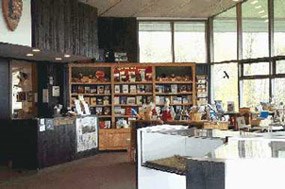 The Eastern National Bookstore carries a number of publications on the American Revolution and Colonial America, as well as many educationally-based toys and gifts.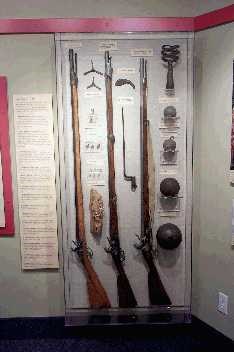 A Revolutionary War Timeline Exhibit, installed in the Spring of 2006, incorporates key points of interest for each year of the Revolution. These informational elements are embodied, explained, and illuminated by use of historic images and of artifacts.

The Revolutionary War Timeline Exhibit shares museum space with our Fiber-Optic Light Map, also installed in the Spring of 2006. The map uses over 6000 fiber-optic lights to show troop movements on the battlefield during the Battles of Saratoga.
Last updated: February 26, 2015