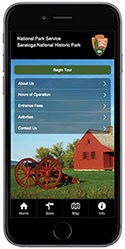 Mobile Web App -- new in 2015!
Starting March 30, 2015, the park is able to offer a new Mobile Web App.
If you are reading this on a smart phone or tablet, use the Mobile Web App link to access the app. The site will ask if you want to save the link onto your device's home screen; doing so will create an app icon on your home screen.
If you are reading this on a desktop or laptop computer and want the URL for your mobile device's web browser, it is sara.toursphere.com