Onsite Activities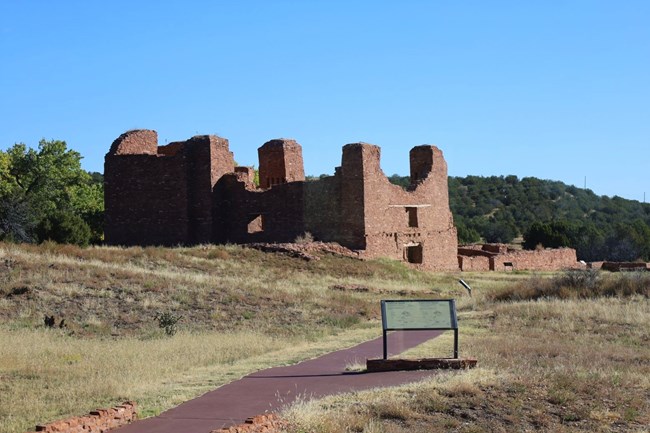 Explore
When onsite at Quarai, Abó, and Gran Quivira, take a stroll on the interpretive loop trail to learn more about the people that came before us. Use the wayside exhibits and interpretive trail guide available at the bookstore to step back in time and imagine the sights, sounds, and stories of life at a pueblo and Spanish Mission.
At Quarai, the one-mile Spanish Corral loop trail shows you the wild side of Salinas. Pack a full water bottle, wear sturdy, comfortable shoes, and bring your favorite pair of binoculars to take in the natural beauty of the scenic trail. Uncover your sense of discovery at each
site
.
Learn
Be sure to stop into the visitor center at each site to talk with a ranger to learn the story of the people and the way they lived in the New Mexico frontier. If you want a fun challenge, ask about the Junior and Senior Ranger program! Both
Junior Ranger (PDF)
and
Senior Ranger (PDF)
activity books are offered daily at each site and give you an in-depth look at the park. Once you finish, be sure to stop back into the visitor center to receive the badge and ribbon that you earned. You'll be sworn in as an official Junior or Senior Ranger!
Connect
At Salinas, we all connect to the park in different ways. We can relate many past concepts to our lives today. No matter what concept you connect with, whether it is exploration, struggle, power, innovation, or any other you may feel, Salinas has a personal connection to us all.
While onsite, we encourage you to take advantage of any offered programs. To stay updated on current events and happenings at the park, follow the park
Facebook
page,
Twitter
page,
Instagram
page, and events
calendar
.
Last updated: March 8, 2023