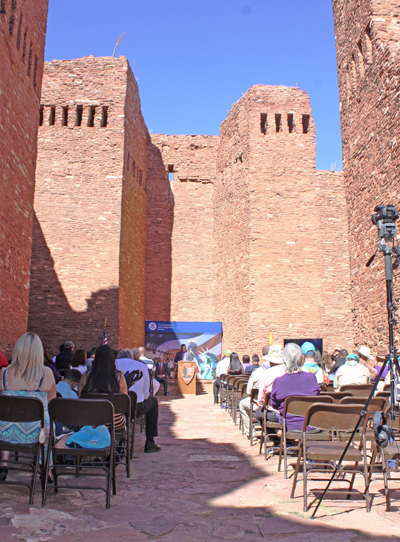 News Release Date:
October 18, 2016
Contact: Norma Pineda, (505) 847-2585, x21
Yesterday, under the blue New Mexico sky,15 new Americans took their Oath of Allegiance and became U.S. Citizens in the 17th Century Mission ruins of Quarai. The National Park Service has partnered with the U.S. Citizenship and Immigration Services to host these important ceremonies at the special places of the NPS. For Salinas Pueblo Missions, this was the first of what will be an annual event.
Three countries were represented, Mexico, Australia, and Cuba. The ceremony began at 1pm with the presentation of the flag by Boy Scout Troop #640 from Edgewood, NM. Next was the Call of Countries and the very moving Presentation of Candidates, when the 15 new citizens recited the Oath of Allegiance. Our newest citizens received a warm welcome from the following distinguished speakers: Superintendent Tom Betts, Abbey Lewis from Sen. Heinrich's office, Torrance County District 3 Commissioner, Leroy Candelaria, and Mountainair Chief of Police, Robert Chung. At the conclusion of the ceremony, the Zuni Pueblo Dancers put on an amazing show. 
"It is exciting and very fitting to have these new citizens take the oath of citizenship here at Salinas Pueblo Missions National Monument," stated Superintendent Betts, "our national parks protect our history and heritage and now these new citizens are part of the history of this park." 
Stay apprised of all of the exciting events happening at Salinas by checking
our Facebook page
. The mission sites are open to the public 9:00 to 5:00 seven days a week.