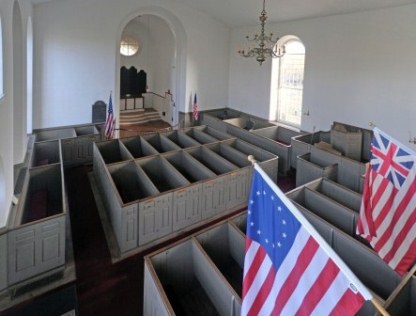 The following stories are told in recognition of the 250th anniversary of the 1763 beginning of construction of St. Paul's Church:
The Seton Tablets: Wooden tablets from 1840s reflect important change at St. Paul's Church.
The Long Journey of a 17th century Oak Chair: Learn about this 1639 chair that resides at St. Paul's.
19th-century Models of the Church: Commemoration & History
Eternal Light/Sanctuary Lamp - Commemorating History & Religion at St. Paul's.
The Historic Erben At St. Paul's Church - One of the nation's oldest working organs.
For Whom the Bell Tolls - The story of the bell of St. Paul's Church.
Sara Roosevelt: Read about her contribution to the restoration of the church interior in the 1940's.
An End and a Beginning: The Last Days of St. Paul's Church: Read about the transition from house of worship to national historic site.
Religion in the Wilderness: The Early Years of the St. Paul's Parish: Learn about the history of St. Paul's from the 1660s through the early 1700s.
Bronze Plaque Honors Underhill Family at St. Paul's: The smallest plaque on the exterior of the historic church recognizes this prominent local family.
Bronze Plaque Installed in 1952: Commemorates Designation of St. Paul's as a National Historic Site