Paramount Ranch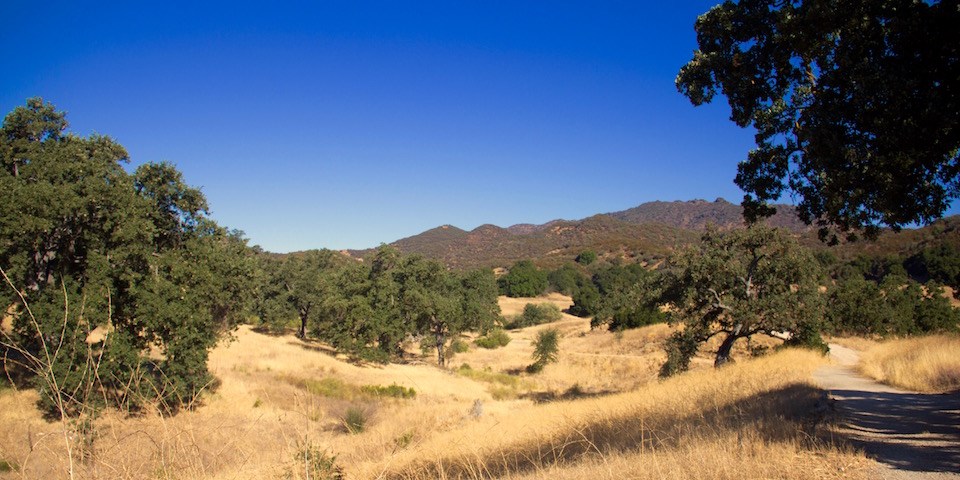 Paramount Ranch offers opportunities to learn about film history while spending time in the beautiful environment. Several miles of easy to moderate scenic hikes meander through chaparral, riparian, and valley oak savannah plant communities. Equestrians and mountain bikers may access these multi-use trails. Wildlife sightings might include red-tailed hawks, acorn woodpeckers, coyotes, and deer. Be on the lookout for our two native oak species—coast live oak and valley oak. Experience the rare valley oak savannah and be transported to far off destinations.

When Paramount Pictures leased the ranch in 1927, they began an era of film production that continues today. You can experience the area where Bob Hope starred in "Caught in the Draft" (1941) and Jane Seymour had the leading role in "Dr. Quinn, Medicine Woman" (1993-1998). In the 1950s, Western Town was created for television shows, such as "The Cisco Kid" (1950-1956). More recent productions at Paramount include HBO's "Westworld" (2016-2017) and "American Sniper" (2014). Read more about Paramount: Past, Present, and Future.

In November 2018, the Woolsey Fire swept through Paramount Ranch and destroyed much of what was known as Western Town. The train depot used in the "Dr. Quinn, Medicine Woman" series and the chapel used in HBO's "Westworld" survived the fire and remain on site.

Construction to replace some of what was lost at Paramount Ranch will begin in spring 2023 and wrap-up in fall 2024. The Ranch and its hiking trails will remain open during construction, but visitors will be diverted around the construction closure.
Activities
Hiking

Picnicking

Mountain Biking

Horseback Riding

Dog walking

Wildlife Viewing
Directions
2903 Cornell Road, Agoura Hills, CA, 91301
GPS Coordinates: N 34.1181 W -118.7525
Take Ventura Freeway (U.S. 101) to Kanan Road exit. South on Kanan 0.5 mile. Left on Cornell Way and veer to the right. South 2.5 miles, entrance is on right side of the road.
Good to Know
| | | |
| --- | --- | --- |
| Parking | Yes | Ample parking everywhere. |
| Restrooms | Yes | |
| Water | Yes | |
| Pets | Yes | Dogs are allowed but must remain on a leash, not to exceed 6 feet, at all times. Please pick ­up after your dog. |
| Cell Service | Yes/No | Depends on cell service provider. Unreliable cell service in the backcountry. |
Additional History about Paramount Ranch
The Paramount Pictures Era
When Paramount Pictures leased the ranch in 1927, they began a historic era of film production. You can experience the area where Claudette Colbert was sentenced as a witch in 1692 Massachusetts in "Maid of Salem" (1937). Bob Hope played the part of a vain movie star whose biggest fear is to be drafted into the U.S. Army in "Caught in the Draft" (1941).

A veritable "who's who" of Hollywood practiced their craft here for almost a century. From actors Gary Cooper, W.C. Fields, Marlene Dietrich, and many more!

The diverse landscape, however, was the real star of the show. It offered filmmakers the freedom to create distant locales such as colonial Massachusetts to ancient China in "The Adventures of Marco Polo" (1938), a South Seas island in "Ebb Tide" (1937), and numerous western locations, including San Francisco in "Wells Fargo" (1937). The art of illusion was mastered on the landscape.

The golden era of moviemaking at Paramount Ranch came to an end when changes to the studio system prompted Paramount Pictures to sell the ranch. Paramount Ranch found renewed life as a film location when William Hertz bought the southeast portion in 1953.
Hertz Era Western Town
An ardent fan of movie westerns, Hertz built a permanent western town utilizing Paramount Pictures' old prop storage sheds. As a result, television companies began shooting westerns at the ranch, such as "The Cisco Kid" and "Bat Masterson."

William Hertz sold the property in 1955 to three businessmen investors who renamed it the Paramount Sportsman's Ranch. The Paramount Raceway opened a year later. Some considered it one of the most challenging in the U.S., and it closed 18 months later after two fatal crashes occurred in December of 1957. The raceway was featured in "The Devil's Hairpin" (1957) and Disney's "The Love Bug" (1968). Most of the track still winds through the grass and oak woodlands of the park.

From 1957 to 1980, the ranch would see more ownership changes, but filmmaking continued.
National Park Service Purchases Paramount Ranch
After purchasing a portion of the original Paramount property in 1980, the National Park Service revitalized the old movie ranch.

In the early 1990s, Jane Seymour and Joe Lando captured hearts in "Dr. Quinn, Medicine Woman" (1993-1998), a television show that used Paramount Ranch as their permanent, everyday set. Members of the public would often camp out for the day and watch the show get created in real-time!

More recent productions at Paramount include "The Lake House" (2006) starring Sandra Bullock, HBO's "Westworld" (2016-2017), and "American Sniper" (2014). Find a more detailed list of films and TV shows filmed at Paramount below.
Movie List With Paramount Ranch As A Location Theatrical Releases and Made for Video
Two Flaming Youths w/W.C. Fields 1927
The Showdown 1928
Avalanche 1928
Betrayal w/Gary Cooper 1928
The Water Hole w/Jack Holt 1928
The Big Killing w/Wallace Berry 1928
Under the Tonto Rim 1928
The Vanishing Pioneer 1928
The Mysterious Dr. Fu Manchu 1929
The Four Feathers 1929
Half Way to Heaven 1929
Stairs of Sand w/Wallace Berry 1929
The Sunset Pass w/Jack Holt 1929
The Wheel of Life 1929
Wolf Song w/Gary Cooper 1929
The Virginian w/Gary Cooper 1929
The Devil's Holiday ** 1930
Mammy w/Al Jolson -Warner Bros. 1930
Morocco w/Gary Cooper 1930
The Border Legion 1930
The Light of Western Stars 1930
A Man from Wyoming 1930
Only the Brave w/Gary Cooper 1930
The Santa Fe Trail w/Richard Arlen 1930
Anybody's War 1930
Derelict 1930
The Virtuous Sin 1930
Shadow Ranch -Columbia 1930
The Dawn Trail -Columbia 1930
The Lone Rider -Columbia 1930
The FighXng Legion -Universal 1930
Follow Thru 1930
The Mighty 1930
The Texan w/Gary Cooper 1930
The Spoilers 1930
Tom Sawyer w/Jackie Coogan 1930
The Painted Desert /Pathe 1931
Sooky w/Jackie Cooper 1931
Huckleberry Finn w/Jackie Coogan 1931
The Fighing Caravans 1931
The Magnificent Lie 1931
Caught w/Richard Arlen 1931
Unfaithful 1931
Border Law – Columbia 1931
Desert Vengeance - Columbia 1931
The FighXng Sheriff - Columbia 1931
Branded -Columbia 1931
Clearing the Range – Allied Arists 1931
The Conquering Horde 1931 Melody in Spring 1934 It's a Gid w/W.C. Fields 1934
Dude Ranch w/Jack Oakie 1931
The Road to Reno 1931
The Avenger - Columbia 1931
Twenty Four Hours 1931
Gun Smoke w/Richard Arlen 1931
I Take This Woman w/Gary Cooper 1931
Hot Saturday w/Cary Grant 1932
Sign of the Cross w/Claude_e Colbert 1932
Million Dollar Legs w/W.C. Fields 1932
A Farewell to Arms w/Gary Cooper 1932
The Broken Wing w/Leo Carrillo 1932
Horse Feathers** w/Marx Bros. 1932
Lady and Gent 1932
Love Me Tonight 1932
The Man from Yesterday 1932
The Local Badman w/Hoot Gibson 1932
The Miracle Man 1932
Island of Lost Souls w/Charles Laughton1932 Shanghai Express w/Marlene Dietrich 1932
Sinners in the Sun w/Carole Lombard 1932
Heritage of the Desert 1932
The World & the Flesh 1932
The Thunder Below 1932
Make Me a Star w/Joan Blondell 1932
Ghost Valley -RKO 1932
One Man Law -Columbia 1932
Hello Trouble - Columbia 1932
White Eagle - Columbia 1932
Riding for Justice - Columbia 1932
Forbidden Trail -Columbia 1932
Blonde Venus w/Marlene Dietrich 1932
Wild Horse Mesa w/Randolph Scott 1932
The Man I Killed/Broken Lullaby 1932
Hello Everybody/Queen of the Air 1933
One Sunday Adernoon 1933
Phantom Thunderbolt -Fox Film Corp. 1933
King of the Jungle w/Buster Crabbe 1933
Man of the Forest w/Randolph Scott 1933
Under the Tonto Rim 1933
The Story of Temple Drake 1933
The Trumpet Blows w/George Rad 1934
Mrs.Wiggs of the Cabbage Patch 1934
The Last Round-Up w/Randolph Scott 1934
The Thundering Herd 1934
The Man Trailer -Columbia 1934
Melody in Spring 1934
It's a Gid w/ W.C. Fields 1934
Six of a Kind w/W.C. Fields 1934 Sullivan's Travels w/Joel McCrea 1941 Buy Me That Town 1941
The Old Fashioned Way w/W.C. Fields 1934
The Last Outpost w/Cary Grant 1935Goin' To Town w/Mae West 1935
Peter Ibbetson w/Gary Cooper 1935
McFadden's Flats 1935
Millions in the Air 1935
Rumba w/George Rad 1935
So Red the Rose w/Randolph Scott 1935
Rose of the Rancho 1936
Till We Meet Again 1936
Valiant Is the Word for Carrie 1936
Desert Gold 1936
It's A Great Life 1936
Trail of the Lonesome Pine 1936
Nevada w/Buster Crabbe 1936
Woman Trap 1936
The Preview Murder Mystery 1936
The Jungle Princess w/Ray Milland 1936
The Robin Hood of El Dorado -MGM 1936
Su_er's Gold - Universal 1936
High, Wide and Handsome 1937
The Toast of New York** – RKO 1937
Nothing Sacred w/Carole Lombard 1937
Maid of Salem w/Claude_e Colbert 1937
Wells Fargo w/Joel McCrea 1937
Borderland w/Wm. Boyd 1937
Mountain Music w/Martha Raye 1937
Ebb Tide w/Ray Milland 1937
Partners of the Plains/Wm. Boyd 1937
It Happened in Hollywood -Columbia 1937
Tropic Holiday w/Ray Milland 1938
The Adventures of Tom Sawyer -UA 1938
Bar 20 JusXce/Wm. Boyd 1938
In Old Mexico/Wm. Boyd 1938
The Texans w/Randolph Sco_ 1938
Cassidy of the Bar 20/Wm. Boyd 1938
Pride of the West w/Wm Boyd 1938
Adventures of Marco Polo -Goldwyn 1938
Beau Geste w/Gary Cooper 1939
The Lady's From Kentucky 1939
Never Say Die w/Bob Hope 1939
Geronimo w/Preston Foster 1939
Hotel Imperial w/Ray Milland 1939
Undercover Doctor 1939
Remember the Night 1940
Dr.Cyclops 1940
Those Were the Days w/Wm. Holden 1940
Northwest Mounted Police 1940
Caught in the Drad w/Bob Hope 1941
Hold Back the Dawn 1941
Sullivan's Travels w/Joel McCrea 1941 Buy Me That Town 1941
The Remarkable Andrew 1941
Ball of Fire w/Gary Cooper -Goldwyn 1942
I Married a Witch w/Fredric March 1942 Lucky Jordan w/Alan Ladd 1942
The Great Man's Lady 1942
The Forest Rangers 1942
And the Angels Sing 1943
The Good Fellows 1943
So Proudly We Hail 1943
And Now Tomorrow 1944
Henry Aldrich, Boy Scout 1944
Miracle of Morgan's Creek 1944
Hail the Conquering Hero 1944
Welcome Stranger w/Bing Crosby 1948
Five 1951
Soldiers Three w/David Niven MGM 1951
Bwana Devil w/Robert Stack 1952
The Silver Star – Lippert Pictures 1955
The Lonesome Trail – Lippert Pictures 1955
The Devils Hairpin w/Cornel Wilde 1957
Eighteen and Anxious 1957
Roadracers – AIP 1959
Tickled Pink aka Magic Spectacles 1961
Pajama Party -AIP 1964
How to Stuff a Wild Bikini -AIP 1965
Spinout – Elvis Presley -MGM 1966
Munster Go Home -Universal 1966
The Split -MGM 1968
The Love Bug - Disney 1968
The Illustrated Man -Warner Bros. 1969
Black Angels 1970
Angels Hard as They Come 1971
Evel Knievel -MGM 1971
The Student Teachers 1973
Herbie Rides Again -Disney 1974
Foxy Brown -AIP 1974
Big Bad Mama – Angie Dickenson 1974
Crazy Mama 1975
Posse from Heaven 1975
Death Race 2000 – Sylvester Stallone 1975
Hollywood Boulevard 1976
Breaker! Breaker! – Chuck Norris 1977
Mule Feathers 1977
Texas Detour – Cinema Shares Inter. 1978
Hi-Riders 1978
Shame, Shame on the Bixby Boys 1978
Don't Go Near the Park 1979
Angel's Brigade, aka Angel's Revenge, aka Seven from Heaven 1979 Without Warning 1980 The Boogey Man 1980
Galaxina – Crown International 1980
Without Warning 1980
The Boogey Man 1980
The Return 1980
Red's w/Warren Beatty 1981
Scream 1981
Young Warriors aka The Young Graduates of Malibu High 1983
The ShooXng: The Story of the Kane  Brothers* – Groat Brothers 1983
The Philadelphia Experiment 1984
Action Impossible II 1984
Nomad Riders 1985
Lightning, the White Stallion 1986
Wisdom 1986
Commando Squad 1987
House II: The Second Story 1987
Deep Space* 1987
Big Bad Mama II 1987
The Great Outdoors 1988
The Big Picture  1988
Mutant on the Bounty 1988
LA Heat 1989
Easy Wheels 1989
The Border of Tong aka Massacre* 1990 Frogtown II aka Return to Frogtown* 1992
Mad at the Moon 1992
Sweet Justice* 1992
The Naked Truth aka Glitch II* 1992
Seedpeople* 1992
Alien Intruder* 1993
Lost in Africa 1993
Time Wars* 1994
Joe Joe Angel & the Dead Guy 1997
Home Fries 1997
The Face of Alexander Dumas: The Man in the Iron Mask 1998
Blast from the Past 1999
Flintstones: Viva Rock Vegas - Univ. 1999
The Rowdy Girls* 2000
Gunshy 2000
Escape to Grizzly Mountain* 2000
The Stoneman* 2002
Van Helsing - Universal 2003
The Long Ride Home* 2003
Missing Brendan* 2003
Gang of Roses 2004
The Girl Next Door 2004
Marilyn Hotchkiss' Ballroom Dancing And Charm School 2005
Devil's Highway 2005
Slaughterhouse of the Rising Sun* 2005
The Lake House - Warner Bros. 2006
Norbit - Dreamworks 2006
Crazy 2008
Shadowheart* 2009
Big Money Rustlas 2010
6 Guns* 2010
The Scarlet Worm aka Cowboy Vengeance 2011
Wyatt Earp's Revenge* 2012
Gang of Roses II: Next Generation* 2012
Revenge 2013
Doc Holiday's Revenge* 2014
American Sniper -Warner Bros.2014
Un Hombre DesXnado a Hacer Justicia 2015
Bone Tomahawk 2015
Traded 2016
Miracle in the Valley, aka
Boonville Redemption* 2016
Hickok 2017
Cannibal Corpse Killers* 2018
Gone Are the Days* 2018
The Mercenary* 2019
The Outsider*** 2019
*Denotes Xtles made for direct Video, DVD or Blu Ray release. Includes some that had brief theatrical, fesXval or special screenings & some intended for theatrical release for which that didn't happen.
**DocumentaXon indicates Paramount Ranch filmed scenes were cut from movie.
***Last movie to film in the Western town before the November 2018 Woolsey Fire.
Documentation sources: Production Files, Photographs, Photo Captions, Press books, Industry Publications, National Park Service records and viewing the films. This list is not all-inclusive, as ongoing research continues to uncover unknown titles.

Updated Nov. 2021
TV Shows, Made for TV Movies, Mini-Series and Internet/Streaming Programs
With Paramount Ranch as a Filming Location

1950's
The Cisco Kid – "Witness", "School Marm" (17 episodes total, all Season 6)
The Rough Riders – "The Reluctant Hostage"
Hotel de Paree* (As Georgetown, CO - porJons of all episodes)
Gunsmoke – "Box O' Rocks" (No town)

1960's
Tombstone Territory – "The Injury"
Klondike* (As Skagway, Alaska - Episodes 2-17)
Bat Masterson – "The PrescoW Campaign", "MeeJng at
Mimbres", "The Marble Slab"
The FugiJve – "Home is the Hunted" (Racetrack)
Perry Mason – "The Case of the Runaway Racer" (Racetrack)
Mannix – "Huntdown" (No town)

1970's
Call O' the Faire (Renaissance Faire Promo Special)
Ark II – "The Cryogenic Man" (Town), "Robin Hood", "Don
Quixote (Renaissance Faire site, both)
Helter Skelter (TV Mini-Series)
The Starland Vocal Band Show – Episodes 1 & 4
(Renaissance Faire featured)
The Next Step Beyond – "Ghost Town"
Happy Days – "Westward Ho!" Parts 2 & 3
BeWer Late Than Never (TV Movie)
CHIPS – "Death Watch", "Moonlight", "Satan's Angels"

1980's
BJ & the Bear – "Fire in the Hole"
Charlie's Angels – "An Angel's Trail"
The Dukes of Hazzard – "The Late J.D. Hogg" (Racetrack)
Best of the West* (As Copper Creek, Montana)
The Fall Guy – "Colt's Angels", "The Silent Partner" (5 episodes total)
The Quest – "He Stole-A My Art" (No town)
CHIPS – "The Spaceman Made Me Do It" (No town)
Falling for the Stars (Disney Channel TV Special)
Johnny Cash: Cowboy Heroes (TV Special)
Bizarre (Several Super Dave Osborne skits)
No Man's Land (TV Movie)
The Fourth Wise Man (TV Movie – Jerusalem, Bethlehem & Egypt streets)
Two on the Town
The A-Team – "The Sheriffs of Rivertown", "Mission of
Peace", "The Say U.N.C.L.E. Affair" (6 episodes total)
Hardcastle & McCormick – "Too Rich and Too Thin" (No town)
Airwolf – "LiWle Wolf", "And A Child Shall Lead" (No town)
MacGyver – "Three on the Run"
Falcon Crest (MulJple episodes; No town)
Unsolved Mysteries (MulJple episodes)
Sledge Hammer – "They Shoot Hammers, Don't They?"
Reading Rainbow – "RumpelsJltskin" (Renaissance Faire)
Mathnet – "The Case of the Map with a Gap"
Out of This World – "Go West, Young Mayor"
Shelley Duvall's Nightmare Classics - "Eyes of the Panther"
Comic Relief (TV Special)
Our Gang Special (TBS SuperStaJon TV Special)
The UlJmate Stuntman: A Tribute to Dar Robinson - (TV Special)
Caddie Woodlawn (TV Movie)

1990's
Dr. Quinn, Medicine Woman* (Series home 1992-1998, as
Colorado Springs, CO)
California (Unaired Dr. Quinn Spinoff Pilot)
The Nanny – "The Unkindest Gin"
Rebecca's Garden
Entertainment Tonight
Extra
Access Hollywood
CNN Showbiz Tonight
100 Years of the Hollywood Western (TV Special)
CBS: The First 50 Years (TV Special)
Hollywood's Amazing Animal Actors (TV Special)
Salute to Dr. Quinn, Medicine Woman (TV Special)
Dr. Quinn, Medicine Woman: RevoluJons (TV Movie)
If Someone Had Known (TV Movie)
Lifestyle Magazine Thanksgiving Special (TV Special)
The Real West (MulJple episodes)
Civil War Journal (MulJple episodes)
Unsolved Mysteries (MulJple episodes)
The Great Empire - Rome
Sliders - "Way Out West" (No town)
Tots TV - "The Tots Western Adventure" (BriJsh Children's Series)
Tales of the Gun – "The Gunslingers", "The Shotgun"
E! Mysteries & Scandals (Several stories)
Cousin Skeeter – "The Hoo, I'm Wild Wild West", Parts 1 & 2
History's Mysteries – "Discharged Without Honor: The Brownsville Raid"
Grand Slam
Camp Cucamonga (TV Movie)
The SixJes (TV Mini-Series)
Everything You Wanted to Know… (TV Pilot)

2000-2009 
Diagnosis Murder – "FronJer Dad" 
Diagnosis Murder: The Town Without Pity (TV Movie) Sabrina, the Teenaged Witch – "The Wild, Wild Witch" Modern Marvels: Then and Now – "Gunslingers" Dream Drives – "Mulholland Drive" 
Hopalong Cassidy: Public Hero #1 (TV Special) 
Escape: True Stories of Suspense (TV Special) 
A Woman's a Helluva Thing (TV Movie) 
The X Files – "Existence", Part 2 
VIP – "The Uncle from V.A.L." 
Masada 
VendeWas – "SuWon vs. Taylor", "The Johnson County War" 
Yes, Dear – "Dances with Couch" 
Before We Ruled the Earth: Hunt 
UlJmate Revenge "Western Mayhem" 
OperaJon Junkyard – "Master Water Blaster" 
Lizzie McGuire – "Grubby Longjohn's Olde Tyme Revue" Firefly – "Safe"
Carnivale* (HBO) (MulJple episodes, as Mintern, CA) John Ratzenberger's Made in America (Story intro's -Season 1 episodes) 
Love Comes Sonly (TV Movie) 
The Trail to Hope Rose (TV Movie) 
Love's Enduring Promise (TV Movie) 
Hidden Places (TV Movie) 
Meet the Santa's (TV Movie) 
For BeWer or for Worse – "Hitched at High Noon" NaJonal Parks: Great Train Rides 
Unsolved History – "Shootout at the OK Corral" 
TV Road Trip (1 episode) 
Wild West Tech (MulJple episodes) 
Movies' Greatest Cars (BriJsh TV Special) 
Jesse James: Legend, Outlaw, Terrorist 
Shootout! – "Wild West"
Big Love – "Affair" 
Bible BaWles 
Secret History of Religion 
Unlocking Ancient Secrets of the Bible 
The Conquerors – "Cortez: Conqueror of Mexico" 
CBS News Sunday Morning – Eric Clapton interview 
Love's Unending Legacy (TV Movie) 
Love's Unfolding Dream (TV Movie) 
Lilly's Light (Pilot for Children's Show) 
Prairie Fever (TV Movie) 
The Valley of Light (TV Movie) 
Rock of Love with Bret Michaels – "Riff it Good" 
The Bachelor 
The BacheloreWe – Season 5, Episode 3 
The O.C. – "The Avengers" (No town) 
GeWysburg: The Speech that Saved America (No town)
Tube Tales: TV's Real Stories (Canadian TV) "Baywatch/Dr. Quinn: Medicine Woman/Murphy Brown" 

2010-2019 
Huell Howser California's Golden Parks – 
"Paramount Ranch" 
Weeds – "Gentle Puppies" 
CSI: Las Vegas – "CSI Down" 
Excused 
The Aquabats! Supershow! – "Cowboy Android" Smokewood (TV Pilot) 
Deadliest Warrior – "Comanche vs. Mongol" 
Paul Merton's Birth of Hollywood, Episode 3 (BBC) Custer's Last Man: I Survived LiWle Big Horn 
How Booze Built America – "Westward, Ho" 
Quick Draw* (Hulu Series) (As Great Bend, KS, all episodes & Nicodemus, two episodes) 
Hotel Secrets & Legends (MulJple episodes) 
Castle – "Once Upon a Time in the West" 
Next Stop Hollywood (Australian TV) 
Episodes (No town) "Episode Six" 
Sons of Anarchy – "Poor LiWle Lambs" (No town) 
Funny or Die (Internet) – "Dr. Quinn, Morphine Woman" Scorpion – "Once BiWen, Twice Die" 
Kidnapped: The Hannah Anderson Story (TV Movie) (No town) 
Face Off – "Full Steam Ahead" 
Bones – "The Cowboy in the Contest" 
Drunk History (MulJple episodes, Seasons 3 & 5) RocketJump: The Show – (Hulu) "High Plains Driner" Manson's Lost Girls (TV Movie) 
ExpediJon Unknown – "Legendary Stories: The Real Lewis & Clark" 
Aquarius (Final 4 episodes of Season 2) 
Adam Ruins Everything – "Adam Ruins the Wild West" Declassified (CNN) (2 episodes) 
Westworld** (HBO series) – MulJple episodes - Seasons 1, 2 & 3 
Escape the Night* (Season 3) (YouTube Series) 
Badland Wives – (Demo Reel for Proposed Series) 
Lost Gold (Travel Channel) 
The Great Food Truck Race (2 Episodes, Season 9) 
Hell's Kitchen – "Hell's Riders", S18-Ep3 
SMILF – "Single Mom is Losing Faith" S2-Ep9 
Eye on LA (MulJple stories about the ranch) 

2020-2029 
Everything's Gonna to be OK – "Banded Argiope Spider" 


*The Paramount Ranch Western town set was the main featured town in these series. For Hotel de Paree, Klondike & Best of the West – exterior scenes; Dr. Quinn, Medicine Woman, Carnivale, Quick Draw & Escape the Night made use of both exterior and interior spaces.
**Scenes for the town of Escalante and addiJonal scenes in open landscape areas were filmed at Paramount Ranch for Westworld. 

TV producJons that used Paramount Ranch have filmed everything from just brief scenes to enJre episodes to mulJple episodes. Many used the town, but many only used the open landscape around the ranch. (Episodes on this list used the town, except where otherwise noted.) See the Internet Movie Database (IMDB) for more detailed episode informaJon for all listed shows. DocumentaJon here comes from NaJonal Park Service filming records (1981 to present), from viewing the shows and from photographs. This list is not all inclusive, as ongoing research conJnues to reveal unknown titles. 

Last Updated February 2021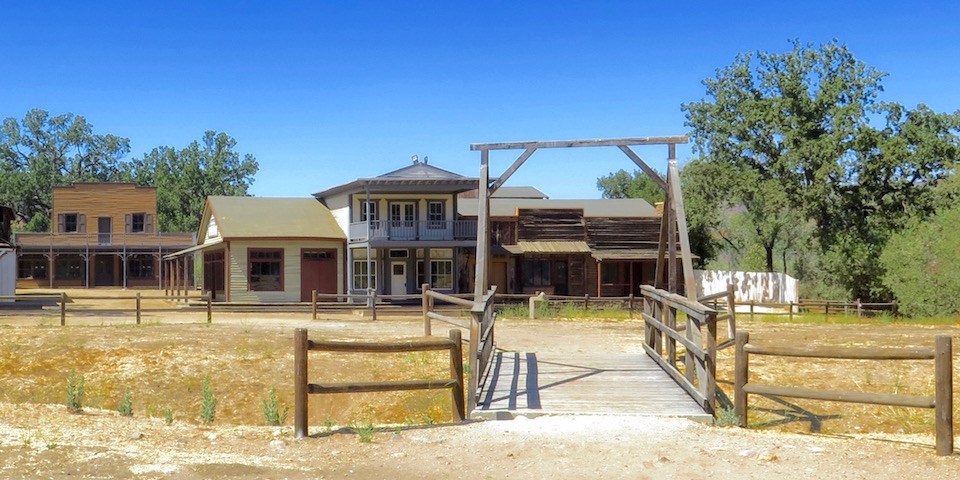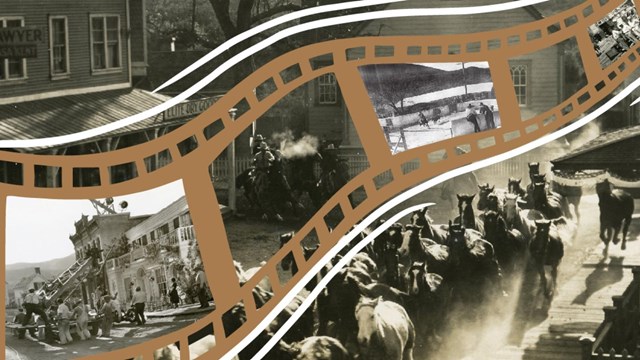 Paramount: Past, Present, and Future
Lights, camera, action! The story from beginning to end.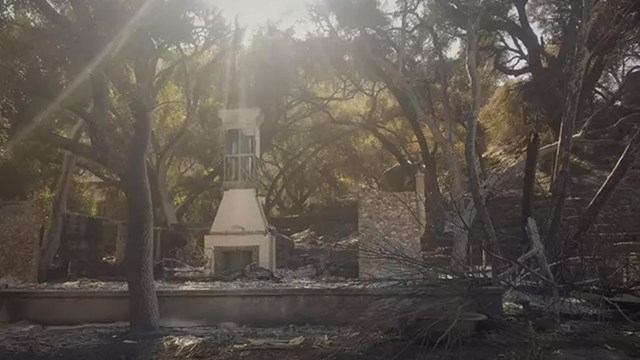 2018 Woolsey Fire
Learn about the Woolsey Fire, which burned almost 100,000 acres of land and changed the park.


Last updated: March 8, 2023