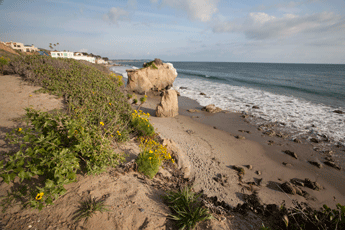 Robert H. Meyer Memorial State Beaches is made up of three cliff edged "pocket beaches", each more scenic than the next.
El Matador State Beach: Follow the long dirt trail to this rocky beach with beautiful views and sea caves. It is suitable for year round visitors with beach swells in the Winter and Summer months. Wildlife such as pelicans and other shore birds are a common site. Nature fans can take in plant life of cacti and flowers.
La Piedra State Beach: Located on the Pacific Coast Highway, this beach has picturesque sandstone cliffs and reefs. The abundance of kelp beds are great for surfers and divers. Due to choppy waters, it is recommended to check the conditions before heading out. The borders of the beach and walking path to the entrance are lined with rocks, something to keep in mind before wearing your flip flops!
El Pescador State Beach: This is the spot for bodyboarders and surfers who like seclusion. The opportunity for water sports and activities is almost endless. There's plenty of open space within this cove to make it feel like you're in your own little world.