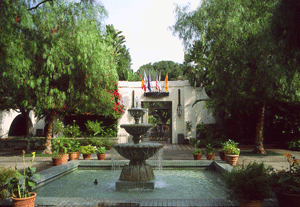 The Los Angeles River Center and Gardens is located at the former site of the Lawry's California Center, near the confluence of the Los Angeles River and the Arroyo Seco, close to Elysian Park and downtown Los Angeles.
The River Garden Park at the northern tip of the facility is a welcoming green space in this urban area. The facility has a Visitor Center with a self-guided exhibit that describes the history of the Los Angeles River, its current status, and a vision for the River's future.
The beautiful mission-style grounds and conference facilities of the River Center serve as a focal point for the renewal of the Los Angeles River and as a prime location for community gatherings, educational conferences, and special events.