Map and Site Information: Corral Canyon Park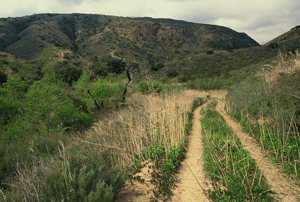 A coastal canyon of the Santa Monica Mountains where the creek flows directly to the ocean shore, Corral Canyon Park rests on a 1,000 acres of land and includes various hiking trails with gorgeous views. The Sara Wan Trailhead is a popular spot with a 2.5 mile hiking loop, and easy access to parking and picnicking facilities. This area is abundant with wildlife that includes quail, deer, and Red-Tailed hawks. Across from the park is Dan Blocker State Beach, accessed by a culvert under the Pacific Coast Highway. In the early 90's, Bob Hope owned a portion of the lower canyon and planned to build luxurious homes and a golf course on site. Before these plans were implemented, the Santa Monica Mountains Conservancy purchased the land and opened it to the public. The park is accessible by public transportation via Metro bus 534.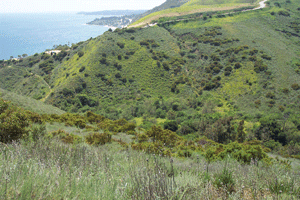 Fee may be collected for entry.
Directions
Pacific Coast Hwy turn inland 4.5 miles west of Malibu Canyon Rd. Parking lot on north side of highway.
Last updated: January 5, 2022