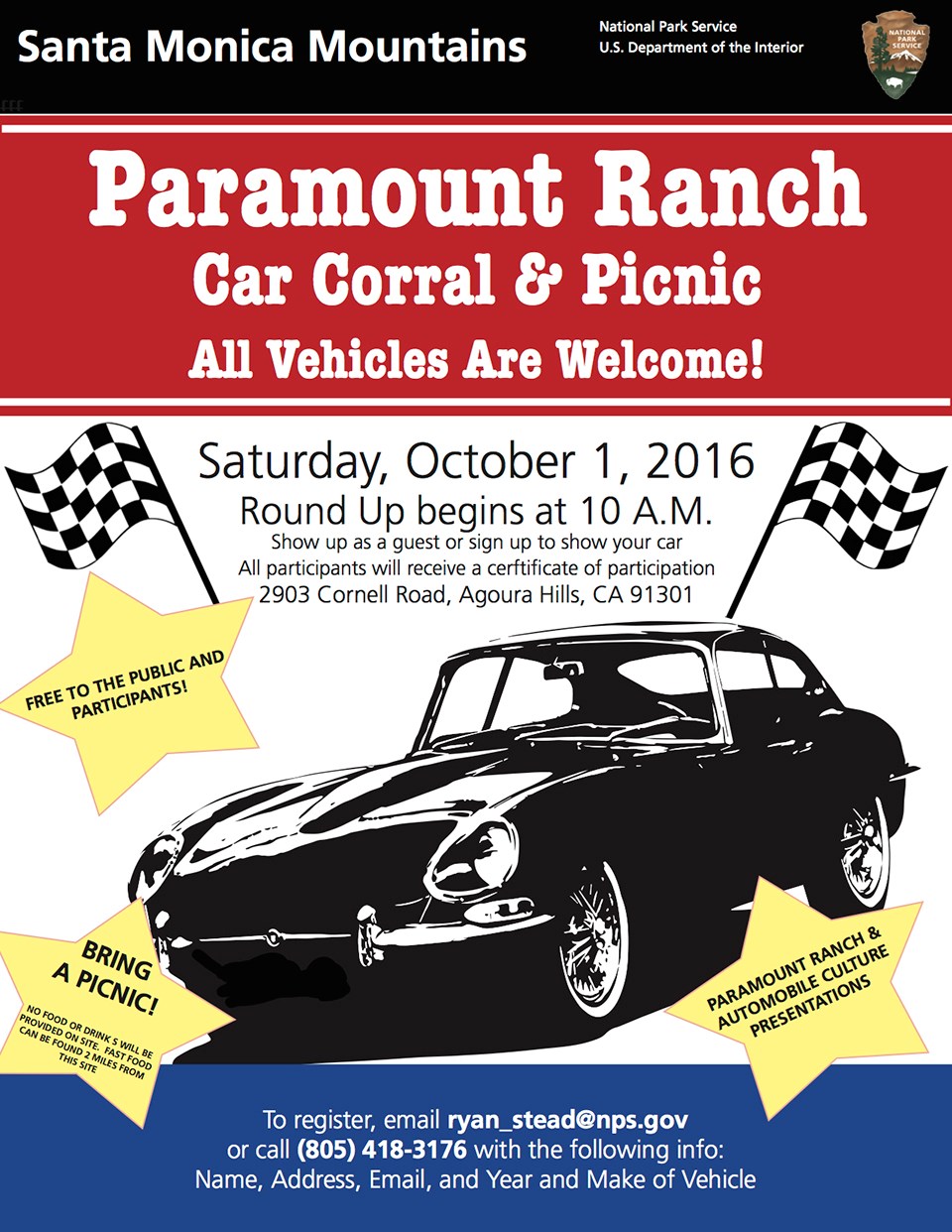 Public Information - Park Visitors and Individuals Registered to the Car Corral
The Paramount Ranch Car Corral and Picnic is a free event, open to both park visitors and to those who have registered to show their vehicles. The Car Corral and Picnic will run from 10 a.m to 5 p.m. This event will celebrate the rich racing history of Paramount Ranch along with a diverse selection of beautiful, unique and classic motor vehicles.

Event Parking
General public parking will be located just outside the western town entrance.
- Lineup for registered vehicles starts at 9:00 a.m. at the entrance to the western town movie set.
- Show vehicles must remain in Western Town until 1:30 p.m. Due to public safety, there will be no early departures.
-Vehicles will be parked according to era. Race cars will be parked on the race track near the pavilion. Staff will guide vehicles to the proper locations.
-Room will be left for chairs, pop-up tables and small pop-up shelters. Small display signs are OK. No music displays please.
-Nearly all vehicles will be parked on dirt surfaces.EXPECT DUSTY CONDITIONS.
-Because of dusty conditions, vehicle speed limit within western town and car show areas is 5 MPH. Drivers creating excessive dust will be directed to leave the event and are subject to citation by law enforcement rangers.
-Participants should be watchful over visitors recreating in the park.
-Ample parking is available immediately outside the gathering area for visitor parking.
Participant Requirements
-This is a free event to participants who bring their cars and all visitors.
-Vehicle entry is limited to the first 80 vehicles. Additional parking for visitors is available.
-The event is open to all years, makes and models of vehicles. They must be in running condition.
-Participants must display a fire extinguisher at the time of entry into western town.
-Trailer parking will be provided in the main parking lot outside of western town.
- Western town is a movie set that has dirt surfaces. Expect windy conditions. Bring a duster or ways to clean your car.
Exhibits and programs
Guests are welcome to join along in any of the numerous free tours or exhibits taking place (as seen below). We would also be thrilled if you brought a picture of your favorite vehicle to place on our timeline exhibit board.

Programs
The car corral/classic car viewing will run through the entire event.
10:00 –Western Town Tours/Pavilion Displays
10:30 – Film Presentation
11:00 – Local History Talk
11:30 – Devils Hairpin Talk
12:30 – Film Presentation
1:00 – Local History Walk


Friends and families are encouraged to bring a picnic lunch to enjoy in our shaded pavilion, otherwise there are several eateries just 2 miles down the road; food and drink will not be offered at this event.
For more information contact Ryan Stead at 805-418-3176 or e-mail us.